Over the last year, I've been reading the Little House on the Prairie books to my oldest boy. I ended up reading the sixth book, The Long Winter, in the middle of a bitterly cold January at my father's cabin in the north woods of Wisconsin.

I have to say, I've rarely been more caught up in a book. Without going into too much detail, it tells the story of how the Ingalls family lived through a truly horrific winter out on the frontier back in the 1880's.
So there I am, in a Little Cabin in the Big Woods of Wisconsin. It's 30 below outside, (-34 Celsius). Then, at 2:00 am, the LP tank runs out of gas.
For you city dwellers, an LP tank is like a big propane tank for your house if you live out in the country. It provides natural gas for your stove, your water heater, and… well, your furnace.
So the cabin starts getting cold, and my dad and I haul in wood and light a fire in the old cast-iron stove. We feed it all night, and make it til morning without much trouble. The place has modern insulation, after all. The kids stay warm with extra blankets and the water pipes don't freeze. Still, it's an eye-opener.
That night I read a few more chapters to my boy about a pioneer family trying to survive in a building that's not much more than a wooden shack. No insulation. No electricity. Cut off from civilization due to blizzards. They have a stove too, but there's no coal. No firewood. They keep alive by burning hay. All they have to eat is potatoes. Then even the potatoes run out and they have nothing to eat but grain.

It goes on for months, and while I'm reading, all I can think is: How can people possibly survive like this?
The next morning, I stumble onto an article about the Syrian refugees. Lebanon just had its worst blizzard in a decade. Feet of snow. And most refugees don't even have a clapboard shack for shelter. They've got tents. Tarps. They have nothing. They're freezing to death. Kids are freezing to death in the snow.
So I call Maria.
*     *     *
As many of you know, I have a charity called Worldbuilders. We raise money from the geek community and use it to make the world a better place. Over the last several years we've raised about 3.5 million dollars.
We work primarily with Heifer International because they offer the biggest bang for our buck. Heifer focuses on providing people with tools, education, and infrastructure so that they can become self-reliant forever. It's the whole teach-a-person-to-fish thing. Except Heifer is actually better than that, because they also teach people to teach *other* people to fish. Which means the good they do is like an ever-growing avalanche rolling forward into the future.
I used to run Worldbuilders, but not anymore. These days Maria runs it, because she's roughly 8000 times better at it than I ever was.

So I call Maria up and say, "Syrian Refugees are freezing to death. Can Worldbuilders give them some money to help?"
There's a pause on the other end of the phone. Maria isn't surprised. She's just thinking. I call her like this all the time, saying things like: "I need a map of 18th century Ghent," or "Why don't we sell greeting cards in our online store? Can we get than ready by tomorrow?" or "Is it illegal for me to have a laser gun? And if so, how illegal? And also, can you find someone to build me a laser gun?"
It says a lot about Maria that she has never tried to choke me. Not even once.
So Maria is quiet on the phone for about 8 seconds, processing. Then she says, "We'd need to make sure the money goes to the right place."
"There's a place called Mercy Corps," I said. "I haven't checked them out completely, but they seem solid. Also, right now someone is offering matching funds, so if we hurry, we'll be able to double up on our donation."
"Okay," Maria says. "I think that's workable."
Now I hesitate. "I worry that people might be upset if we support another charity," I say. "We talk a lot about Heifer. I don't want people to feel like we're pulling a switch on them."
"We've made donations to First Book," Maria points out. "No one was bothered by that."
"True," I say. "But this isn't the sort of charity we normally support. It's not about education or sustainability. But long-term help isn't appropriate here. These people don't have anything. They need blankets. They need heaters and fuel."
"I think we should do it," Maria says.
"But when people donate or buy something in our store, they're trusting us to put the money to good use," I say. "I don't want to risk that trust by changing charities on them all of a sudden. How about I give some money to Worldbuilders, then Worldbuilders donates it to Mercy Corps? That seems safer."
"If that's the way you want to do it," Maria says. "I'll look into them and make sure it's a good charity."
And that's what we did. It was different for us. Worldbuilders usually tries to work for long-term change, but we knew this donation wouldn't solve the refugee problem. It won't give them homes and jobs. But you can't teach someone to fish when they're freezing to death. Sometimes all you can do is keep people warm. Sometimes all you can do help a little, and that has to be enough.
*     *     *
Fast forward to now.
Unless you've been living under a heavy rock, you've been hearing a lot about the Syrian refugees lately. I've heard there's a picture of a little boy that drowned trying to get somewhere safe. I haven't seen it, and I'm not going to go looking for it either. I don't want to see it, and I wouldn't put something like that in my blog.

Instead, here's a picture of The Zaatari refugee camp in Jordan.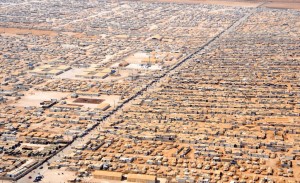 Its population is 79,900. Making it the fourth largest city in the country. There's a lot of kids there. 
I can't imagine what it would be like, having to flee my country with my kids. I can't imagine abandoning everything just hoping to keep my little boys safe. I can't imagine what it would be like to live in a tent and just hope desperately that someone helps me.

Actually that's not true. I can imagine what it's like. I can imagine *exactly* what it's like. I'm a writer. That's what I do. I can imagine it and it's horrifying.
This video touches on the edge of it. It's a only a minute and a half long. You have the time.
My imagination is much worse than that. It makes it hard for me to sleep at night. 
Every day I see more of this stuff. And every day it makes me feel more helpless. Hopeless. Angry at the world.
Then I saw this:
This woman is named Petra Laszlo. She's a journalist. This picture shows her tripping a refugee carrying a child in his arms. (Story here if you like.)
It's been days since I first saw this. And I am still so angry. I'm so angry I can feel it in my chest. My skin prickles. I'm so angry that I can't even describe it to you. I have no words for it. Nothing is big enough.
I believe that people are good. I really do. It's one of the truths I live my life by. It's one of the things I cling to when I have trouble sleeping at night. I've seen such proof of it through the years. From my children. From my readers. From the fact that so many people come together to make Worldbuilders a success.

But this. It's makes me wonder if maybe I'm wrong. 
I hate that this is the world. And I'm so angry. And I'm tired of feeling like I can't do anything to help.
So I call Maria.
*     *     *
So. For the next week, Worldbuilders is raising money to help the Syrian refugees.
What's more, Worldbuilders will be matching donations for the first $25,000 of the fundraiser. So if you kick in 10 bucks, it turns into 20. Donate $50? We'll turn it into a $100.
(Like this.)
100% of the money from this fundraiser will be donated to Mercy Corps, because they're already on the ground, helping out the refugees. They have more than 30 years of experience doing this sort of thing. We've checked them out and they're excellent.
I'm taking a flier on this one, folks. It's an experiment. We haven't planned this the way we normally do. We aren't giving out prizes. There aren't any stretch goals. We don't have any media lined up to help us spread the word.
This is just about helping people who are in desperate need of help.
And honestly? It's kinda ridiculous for us to do this now. Our big end-of-the-year fundraiser in November, we should be focusing on that. That would be the smart thing for us to do.

But the simple truth is this: I can't just watch this happen any more. I need to do something to help. I'm guessing a lot of you feel the same way, so I thought I'd give us a chance to do it together.
I don't want to feel angry and hopeless any more. I want to see more pictures like this:
If this isn't your kind of charity, I completely understand. Rest assured that Worldbuilders will be doing its regular fundraising extravaganza in a couple months.
But if you want to help, you can do it over here.
Thanks for reading to the end, folks. I appreciate it.
pat
Edit 9:47 am: I posted this blog late last night, not knowing what the reaction might be. Whenever you reach out to people like this, it's a risk. What's more, I hadn't done a lot of planning, and I was worried it might not go over well. Around 4:00 I finally managed to get to sleep.
A few minutes ago I woke up, blearily checked my phone, and saw that we've raised over $28,000. I've never been so happy to be awake after only 5 hours of sleep. And I'm going to give Worldbuilders another 25,000 dollars so they can keep matching donations. I'd love to see this thing keep rolling.
Edit 1:28 pm: We just hit $50,000 and within minutes, someone dropped us an e-mail, offering to provide us another $25,000 to help us continue matching donations. She would like to remain anonymous. But I salute her generosity, as it means all donations up to $75,000 are going to be doubled. 
I am having the best day ever.
Edit 6:18 pm: We just hit $75,000, and another lovely human being has stepped up with $5000 dollars so we can continue to match donations. I'm not sure if he wants to remain anonymous or not, but until we know, we'll keep his name private. Named or not, he's the reason donations are being matched up to $80,000.
Edit 8:05 pm: Just when we were closing in on $80,000 we got an e-mail from someone who offered to match another $20,000 dollars. When I saw the e-mail I actually laughed out loud. I've been laughing so much today, and it's all because of you guys.
Thanks to our newest citizen philanthropist, we're now matching all donations up to $100,000 dollars.
(If anyone else cares to drop us a line, our e-mail is [email protected].)