Last week our fundraiser hit $1,000,000 unlocking one of our cooler stretch goals. Namely, Neil Gaiman reading whatever story raised the most money in our donation totals….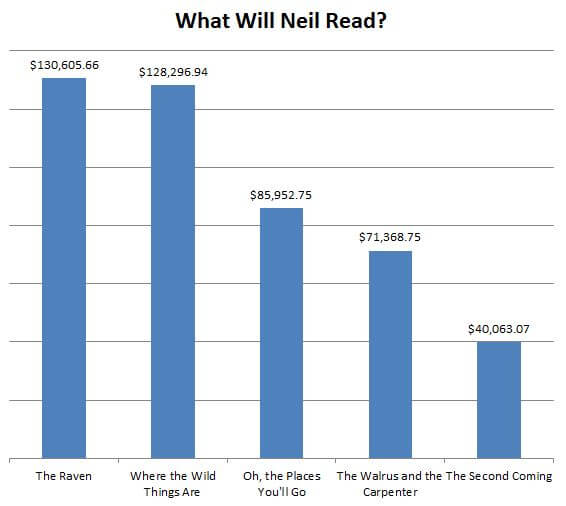 As you can see, it was close. Where the Wild Things Are and The Raven were neck and neck through the whole fundraiser, but The Raven pulled ahead at the very end.
He really went all out with his video, too. Well-met by candlight, Neil….
But this stretch goal isn't the only way Neil participated this year. Though, I admit, the next bit was initiated quite some time ago…
***
Today I'd like to tell you a story about a book. Some of you might not have met it before. But to many of us here at Worldbuilders, it is an old, familiar friend….
It's a book that has been with the fundraiser since the beginning….
2008: A Gift from Gaiman.
In 2008, on a whim, I decided to try raising money for Heifer International on my blog. Things quickly spiraled out of control as other authors pitched in, spreading the word and donating books for me to use as donation incentives.
The pinnacle of the coolness/madness came when Neil Gaiman mentioned us to his vast legion of readers. He also donated a rare, numbered, slipcased ARC of Stardust to the cause.
Unfortunately, mail was delayed because of the holidays, so we couldn't use the book until….
2009: Stardust for the People.
So the second year of the fundraiser rolled around, and I had this book. This beautiful book. This beautiful, *rare* book.
I was still doing the fundraiser pretty much by myself then, and I was having a really hard time deciding how best to use it. I knew we could auction it off and raise at least a thousand dollars, but that didn't seem right somehow.
So I decided to put it into the lottery, where anyone who donated at least 10 bucks to Heifer International on our team page would have a chance of winning it. That seemed fair to me, more egalitarian.
Then something strange happened: the person who won the book gave it back to us. Their one stipulation is that we auction it off next year, so it would raise more money for Heifer. So….
2010: Stardust on the Auction Block.
Year 3 of Worldbuilders, we auctioned off all manner of things. And, as the previous winner requested, we put Gaiman's Stardust ARC up on eBay too.
After some fierce bidding it sold for over $2500 to a lovely guy named Dan. There were many high-fives in Worldbuilders central. We were sad to see the book go, but $2500 bucks buys a lot of goats.
But when I e-mailed Dan to arrange shipping, he said he wanted to donate the book back to Worldbuilders.
I asked Dan if he was sure. He said he was sure. I asked Dan how he got to be so cool, and he said he was inspired by the story of how last year's winner re-donated the book.
But most of the credit, he said, should go to his mom. She always made a point of donating to charity even though she never had a lot of money. Not only that, but she was a dyed-in-the-wool geek like the rest of us: she read fantasy and sci-fi, she played Infocom games…
From everything I've heard, she sounds like my kind of lady.
Dan told me she had passed away recently, and most of the money he inherited from her went into buying this book. He told me she would be proud and happy to know that the money will go to helping as many people as possible through Heifer.
His only stipulation was that we put the book back into the lottery next year, so anyone could win it….
2011: Stardust Full Circle.
Year Four of Worldbuilders, we put the ARC back into the lottery with much cheering. After picking the prizes, I called the winner, Maayan, to set up shipping (because you don't want something like this to show up as a surprise on someone's doorstep).
Maayan tells me no.  She wants it back in the fundraiser. It's sort of a thing now.
I thanked her kindly, and sent along a box of books as as "Thanks for being cool" present.
Then something weird happened….
2012: Stardust as Statistical Anomaly.
In 2012, we put Stardust back in the lottery again. Mostly because I like the idea of this amazingly cool prize being something anyone can win.
At the end of the fundraiser, we pick the prizes and when I'm told who the winner is, I give the assistant holding the papers a look loaded with grim, fatherly disapproval, telling them in the gentlest of terms that they've fucked up and are obviously using last year's spreadsheets.
This is bizarre math, people. This is like Heart-of-Gold level improbability. Maayan had won again.
I called her. She was shocked, amused, and flustered. So we sent her the book.
And she sent us back a picture.
Here's what she had to say:
I was really extremely surprised to win the Stardust ARC two years ago, because I don't think I've ever won any kind of online contest before. I was actually sitting in a hot tub on a ski trip to Colorado when Pat called, and my friends got to watch me make the craziest faces while on the phone. A few weeks later, Neil Gaiman sent me a little card with a picture he had drawn in it, which was so nice of him.

When Pat called me this year to say that I had won again, I'm pretty sure my first words were, "No, I did not!" Surprised doesn't begin to describe it. If I win again this year, I'm going to start to be suspicious of your randomization algorithm.

Worldbuilders is such a great fundraiser, and Heifer International is an outstanding organization. I'm thrilled to take part. Thank you to Pat Rothfuss for putting it together, and thank you to all of the authors and artists who donate the prizes! I've enjoyed reading the fruits of your generosity.
Then Maayan sent it back to us again.
Thanks so much, Maayan. We're glad you at least got to touch the book that seemed so desperate to meet you.
2013: Stardust In the Lottery Again.
Year six of Worldbuilders, Stardust chose a new person to love. It chose Jennifer.
She was overjoyed, happy to have won it, and just as happy to return it.
That was the year we had a cool idea – we instituted a Library Card system for the Stardust ARC.
When I was a kid, every library book had one of these. Even now, all these years later, seeing one fills me with a strange joy.
Neil graciously agreed to sign the cards for us.
What's more, we had all the previous winners sign the cards and pass them on after keeping one for themselves of course (Maayan got to keep two).
This way, if the winner chooses to return the book, they still get a memento of the experience: signed by all the people who have loved the book before them as well as the original donor, Neil Gaiman.
2014: Stardust Makes a New Friend
In 2014 Jeff's name was drawn as the winner of the Stardust ARC. He donated it back again, and we sent him much love in return as well as his own signed Library Card.
The more we do this library card thing, the more I love it.
2015: Stardust Returns Again
Last year, Stardust went to a wonderful supporter named Don.
It was the first year Amanda called the winner. She had a great conversation with him, he told us to keep it, and we sent him a box of goodies. He has his library card, and we still have a beautiful, signed Stardust ARC.
This year's winner will get their very own library card signed by Neil Gaiman and the other winners.
So, without further ado, allow me to add today's book to the lottery.
A numbered ARC of Stardust in its own slipcase. Signed by Neil Gaiman.
Not much remains to be said here. It's a beautiful book with its own slipcase. Numbered 28 out of 250. Signed by Gaiman.
If you donate to Heifer International on the Worldbuilders team page, you have a chance of winning not only this book, but hundreds upon hundreds of other books and games donated by authors, publishers, collectors, and fans.
Every $10 you donate gets you a chance to win. So if you donate enough for honeybees ($30) you get three chances to win. Donate enough for a goat along with the training and materials to care for it ($120) and you get twelve chances to win. Donate enough to provide clean water for a village ($300), you get 30 chances to win.
So. If you'd like to be part of a fine tradition of people being awesome, winning books, and making the world a better place, you can head over and donate right now.
And, just to sweeten the pot, I'm personally putting some of my own horde of Neil Gaiman rarities into the lottery::
Two limited edition copies of The Sleeper and The Spindle by Neil Gaiman.
These books are incredibly rare. They're Special Limited Bookstore Day Edition, printed and sold exclusively for California Bookstore Day in 2014. A select few bookstores had them to sell for the day, and I've managed to lay my hands on two copies, both of which we're putting into the lottery.
It's a beautiful, sweet short story about two princesses. It's a great story to read to your kids, so donate $10 or more to enter the lottery and possibly win them.
This is a beautiful story, and seriously hard to come by.  Most places, it goes for as much as $500. It's printed on specially selected red-speckled paper with black and white illustrations and several color plates that were hand-set.
This one's in the lottery too. So every $10 you donate on our fundraiser page gets you another chance to win it and all the other books we have in the lottery.
This is a screenplay Neil Gaiman wrote a long time ago. It's an adaptation of the novel Good Omens which he co-wrote with Terry Pratchett.
This thing is a true rarity. It is the First and Only Edition of this work, numbered 473 out of 500.
According to Neil Gaiman in his introduction, this screenplay was revived from "a dusty and cobwebbed place on my hard disk, where people never go." It was never available for general sale, and hasn't been read by many.
Donate $10 or more to the lottery, and it could be yours.
A complete set of  The Absolute Sandman Volumes 1-5.  Signed by Neil Gaiman.
I'm guessing most of you know about Sandman. It's a comic series that finally convinced a lot of people (including me) that comics were a brilliant storytelling medium in their own right. That comics could be as marvelous and orchestral and clever as anything ever written by Shakespeare or Chaucer or Homer.
These are the Absolute editions of the entire Sandman series. The art has been retouched. And they're collected into gorgeous, slipcased, hard-bound books.
Just calling these "books" doesn't give the right impression. These are Tomes.
They're incredibly beautiful, and very rare. We know we could make a lot off of them if we put them up for auction, but we want to offer them up in the lottery for anyone to win.
A completely different Stardust ARC. Signed by Neil Gaiman.
We got an email from Neil a week or so ago that simply asked "Would you like another Stardust ARC?"
Naturally we jumped at the idea. And it's a true ARC, not the special limited edition hardcover version that keeps coming back to us.
This one has been signed, doodled, and inscribed by Neil himself. And it's a Stardust ARC that you can win and then keep without feeling guilty for not returning it to us.
Please keep it? We're a little worried that Neil might develop a complex if people donate this one back to us as well….
***
Don't forget that Worldbuilders is matching all donations. So if you donate enough for a flock of chickens ($20) it becomes two flocks. $120 becomes two goats. $300 dollars becomes enough to give two communities clean water, along with tools, training, and management techniques to manage their water resources more effectively.
For every ten bucks you donate, you get a chance to win. Not just the books we're showing here, but over 5,000 prizes donated by authors, fans, and publishers. Tens of thousands of dollars worth of books.
Not to mention, of course, our beloved Stardust ARC.
If it encourages you to donate more to increase your odds, that's fine by me. There's even more coming, and the final round of auctions are now officially live. Be sure to check those out, look around the lottery library, and and donate while you still can.
Only 10 days left…
pat