As I type this, Worldbuilders has raised $287,000 dollars. We shot past the $250K stretch goal like it was nobody's business, and that means tonight, (Wednesday the 26th) Nate Taylor and I will be going a Google Hangout taking about the art in The Slow Regard of Silent Things.
The hangout will be starting at 7:30 central time, and will last for about an hour. Nate and I will answer questions, talk about how we worked together to come up with the pictures, and show off some of the images that never made it into the book.
Amanda has set up two of these hangouts for the fundraiser, which means she's pretty much a professional hang-outer. It also means we already have a link you can follow right now so when the hangout starts, you'll already be there.
Yeah. That's right. I just put a link in the text of the link that it's a link to. That's how I roll. Extra meta.
What I recommend you do is open a window on your computer right now and turn the volume on your computer up. Then when we start the hangout tonight you'll freak the hell out because you'll hear my voice coming out of nowhere and assume that I'm a maniac who has broken into your house.
You can show up and ask your questions in the hangout, or on twitter using the #GeeksDoingGood hashtag. Or, if you're not into all the space age tech, you can just leave a question down in the comments at the bottom of the blog. That's fine too.
* * *
As a bit of a teaser for our upcoming Black Friday sale, we're doing something we've never done before in the Tinker's Packs. Something we've never been *able* to do in the Tinker's Packs because our previous website couldn't handle it.
We're selling computer games. Or rather, the steam codes for computer games.
This is kind of exciting for me because I know both of these companies, and I know they make quality games. And if there's one thing better than sharing things I love with other people, it's sharing things I love while making the world a better place.
Let's do a picture here. I've been having the kind of day where I need to look at a happy kid to remind myself why we're doing this.
There. That's what this is all about.
I don't want to get all heavy here in the middle of my charity post. But I'll be honest with y'all. These last couple weeks have been hard for me. Sometimes it just feels like everything in the world is spiraling into shit. Politicians are awful. Corporations are worse. Our justice system seems to be irrevocably fucked. Cash register receipts are giving us cancer and the oceans are poisoned with our plastics.
There's just so much of it, all the time, and I can't fix it. All this shit is so wrong and it's just so fucking *big* and I can't do anything about it.
There is a word: "Weltschmerz." I've heard it defined as "the despair we feel when the world that is, is not the world we wish it would be."
I feel this way all the time. I am so endlessly angry and disappointed in the world. If people really understood how constantly, incessantly furious I am, nobody would ever dare come within arm's reach of me.
That's why I run Worldbuilders. Because the world isn't what I want it to be. And I can't fix it all, but if I don't do something I'll either start drinking or simply rage until there's nothing left of me but ashes.
I can't fix it all. But I can do this.
There. That's what I'm about. That little guy is so fucking excited because he has clean water to drink.  That I can do.
So thanks for coming along with me, folks. I do this to make the world a better place, but the fact that so many of you come with me on the ride, the fact that you are all so generous with your help. It makes me feel like there's hope for humanity. And hope is in such short supply these days.
Okay. Sorry about that. Like I said, it's been a rough couple of days.
Enough digression. Quick link to the donation page, then on to games.
*     *     *
First let me talk about Hidden Path Entertainment.
Two years ago, I was on a panel out at PAX, titled something like "Narrative in Gaming." I had a ton of fun because everyone else on the panel wrote games, and I was just a novel-type author. Since I wasn't an expert, I just got to speak as a storyteller and someone who has been playing games for about 30 years.
Which mean I mostly made jokes and shot my mouth off a lot. I probably sounded like a cross between a mad prophet and that angry old man who shouts at kid to get off his yard. "Story is King! Today's games don't give people the chance to fail! Narrative engagement is the Holy Grail! I spent two years trying to solve Zork III! Uphill! In three feet of snow!"
At one point, a member of the audience asked, "Is narrative important for a good game?" And I jumped in quickly with a "Absolutely not!"
Everyone was pretty surprised, because I was the story guy on the panel.
"Tower defense games." I said. "Vastly entertaining. No narrative."
"What about Defense Grid?" someone asked. "That's great tower defense game and it has a great narrative too."
"What?" I said. "Seriously?"
That was the one game that I bothered tracking down at the convention, and when I did, I was pleasantly surprised to find out that they were fans of my work. I admitted that I have a strange love for tower defense, and one of them gave me an access code for their game.
Simply said, I loved it.
Fast forward to now. Hidden Path has given us a bunch of codes for this, their first Defense Grid game. I have to say. I'm a bit of a connoisseur of this type of game. To say that this is the best tower defense I've ever played doesn't even do it justice. It's like saying Portal is my favorite Jumping game. Doesn't come close to doing it justice.
Did I just compare this game to Portal? Yes I did. Let me say it more plainly. This is the Portal of Tower Defense games.
And I say that with layered meaning. The game bundle we have available in our store includes a bunch of DLC. And in addition to the extra levels and maps. There's a special little expansion of the game called the You Monster DLC.
That expansion features GlaDOS from Portal. She effectively takes over your training simulation and starts to screw with you. Changing the rules of the game on ever level. Not playing fair in any way.
I have to say, I thought I was pretty good at the game before that DLC pack. But the truth is, I was cookie dough, after I worked my way through the levels and beat GlaDOS. I was carved out of wood.
Amanda says: "Really? Okay, Pat. You just made your first sale."
You can head over to the Tinker's Packs and buy it right now.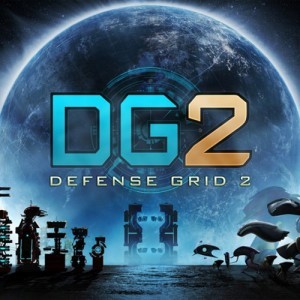 After I played the game, I called Hidden Path and gushed about how much I liked it. I must have made an impression, because later on, when they were writing the sequel, they asked me if I'd like to come in and do some work on the game with them.
I really wanted to, but I said no. I was working on novel stuff, and besides, I was already committed to one video game project already. (Torment.)
So I introduce them to Mary Robinette Kowal, because not only is she an amazing writer in her own right, award-winning and more experienced with Sci-Fi than I am. But if they can't get me, they should get someone who's better at pretending to be me than I am.
Hidden Path has given us codes for the Steam Special Edition of this game. It comes with a bunch of stuff, including the digital book The Art of Defense Grid 2, the e-book The Making of Defense Grid 2: The Complete Story Behind the Game by Russ Pitts, and "A Matter of Endurance," a audioplay written by Mary as well, performed by the same actors who voiced the game, including one of my favorite voice actors of all time: Alan Tudyk.
You can head over here to buy your code and all proceeds will go go Worldbuilders.
The folks over at Hidden Path also sent us download codes for the Early Release of their new game, Windborne. It's a social sandbox game with quests, exploration, building, and lots of multiplayer options.
I haven't played it yet, because I just had a book come out, and I've been busy running Worldbuilders. But at this point, I'm willing to trust them to produce a good game.
It's already extremely well received on Steam, and you can be a part of this early access test by buying your copy over here.
Remember when I mentioned that I was already working on some video game stuff? Well that's how I know this company. InXile Entertainment is the company that is making Torment, and I've been working with them on that for more than a year now, building my companion character and helping write that game.
I've been nothing but impressed with them so far. They have a strong focus on storytelling and character, and I've already seen them viciously revise the torment storyline once when it wasn't doing what they wanted. As a hard-core reviser myself, I respect that dedication to the story.
Wasteland 2 is a game that follows in the tradition of the Fallout games. And not just thematically. The first Fallout games were actually put together by people who wanted to write a sequel to the original Wasteland. So Wasteland is actually where Fallout originally drew a chunk of its inspiration.
This game has been a long time coming, and it's been getting good reviews. I haven't had a chance to delve into it yet (because writing) But I've seen people having fun with it online:
This is fantastic. RT @ahninjas: @wilw Look what I found in the wasteland pic.twitter.com/UJIn29plvh

— Wil Wheaton (@wilw) September 30, 2014

So you can see that these guys have a strong sense of fun as well.
If you want to explore the apocalypse and find your own Wesley doll, you can buy a download code over here.
*     *     *
Tomorrow's thanksgiving, so we've got something a special planned. We'll be sharing some stories you might be interested in….
And after that we're having our Black Friday sale in the store.
So stay tuned…
pat