This is a Worldbuilders blog.
First, some news: Pat hasn't mentioned it yet on the blog, but he's had a baby. So we (the Worldbuilders team) are going to put together a blog or two for him because he's trying to take care of Sarah, Oot, and the newest edition to the family. Codename: Cutie Snoo.
Now, on to the blog:
Authors are always some of our coolest donors.  The books are always signed, and the authors are always amazingly helpful and willing to participate in fun ways.  Our stretch goals this year are evidence of that.
So be sure to say thank you to everyone who donated if you get the chance.  Let's check these out…
Last year, Sherwood Smith took the time to draw the map from the Inda series, along with donating the full set of books.  This year she outshone even that, by hand-stitching a tapestry to send along with the books, all of which are intricately doodled first printings.
(Click to embiggen)
These are truly one of a kind prizes, which Sherwood put a lot of time into.  We've put them into an auction so that someone who truly loves them for how special they are can have them.  If you're that someone, go over here to bid.
Kevin's part in the Thank You Video last year may have been the office favorite, if only for his enthusiastic use of a flagon.  Most of the staff have read at least the first few novels in the Chronicles, and not a one has been disappointed.
"Kevin Hearne's Iron Druid Chronicles has grown from strength to strength since its publication in 2011. Kevin's writing style along with his characterization has made him the darling of urban fantasy readers all over the world." – Fantasy Book Critic
This YA novel won the 2012 Young Writers Prize. It's an up and comer, and doing pretty well for itself.
It's also written by a long time fan.  Some of you who have been around for a while may recognize the author – our very own Captain Joe, winner of the previous photo contest and all-around awesome person.
"[The Rig] is a non-stop thrill ride from beginning to end, and as the first book in a series it left me wanting more come the final page. Even better, it did this without finishing on a massive cliffhanger – the story comes to a satisfying conclusion, but the door is wide open for the next installment." – The Book Zone
This is a great set of novels, all of which are first editions, and the ARC included won't be published until March 2014.
If you want the sneak peek, be sure to go bid on this.
It's always nice when an author adds that extra little something, and these bookmarks are a nice touch to add to these books. This is the first book in a trilogy about a 17-year-old grafitti artist who finds herself sent back in time to fraternize with a bunch of immortals.
We had some of these sent by Kevin Hearne last year, but Rachel Caine took the time to send us a few more.  The authors signed by their stories, and the collection itself is really worth sitting down with.
"The alternating currents of horror and fantasy that course through this volume ensure that readers of several genre tastes will find stories to their liking." – Publishers Weekly
"An intriguing protagonist, a well thought out setting, and… a fascinating story. I most definitely want to read the second volume of Ruby's Song." – SF Signal
Brenda Cooper is one of the authors offering a critique of your manuscript over on eBay.  It's cool of her to do that, and even cooler that she kicked these books into the fundraiser, for anyone to grab by donating over at the Team Page.
Since Brenda was so generous, we were able to throw one set up as an auction.  Head over and bid if you need to be sure you get it.
Hopefully Myke is recovering well from the incident with the straight razor.  He managed to send this ARC of his next book to us beforehand, though, so at least you can get that, even if he doesn't make a full recovery.
"The best ride that military fantasy has to offer." – Mark Lawrence, author of Emperor of Thorns
As an added  bonus, Myke included a second ARC and challenge coin for us to auction off.  The cool thing is that this book doesn't come out until the end of January 2014, so even though the lottery winner won't have it before then, whoever wins this auction will.
If you want to be that person, head over to the auction and bid.
"An interesting, evocative tale. A powerful story of rebuilding and finding oneself when the world has gone topsy-turvy. Brutal and harsh at times, Pratt creates a real, hard, dirty world that is somehow still fantastical and full of magic and mystery." – Front Street
This beautiful, lettered edition of A Memory of Light was given to us by Brandon Sanderson.  It's still unopened, and it's looming over everyone in the office.
If you want to get your hands on it, we've got it up for auction over here.
Wool was originally released as a series of novellas (its sequel, Shift, was released the same way). Here it is in its five separate volumes, each one signed by author Hugh Howey. Technically, this is a cool ARC of the Wool Omnibus.  It was actually donated by Dubray Books, then mailed to Hugh Howey to sign and mail along to us, so that's extra cool.
"This story is terrific. I was completely immersed, watching Howey slowly paint a picture of a society gone wrong through the eyes and discovery of some truly compelling characters." – Boing Boing
"Murder, magic, and the transformative power of music are just a few of the things touched on in this vivid historical fantasy novel about two dreamers, an Irish-Seminole man and a hoodoo queen, who leave their backwoods Georgia home for the bright lights of Chicago at the beginning of the 20th century." – Locus
This is really cool.  Kristen's novel, Mirror Sight, won't be out until May 2014, but she's donated a signed dust jacket, as well as a page of her hand-written draft.  We're auctioning it off, in the hopes that someone who really loves these books gets it.
If you'd like to bid on it, head over here and do so.
The Forbidden Library will be published in April 2014, so whoever is lucky enough to win this one in the lottery will get a nice early read.
"There's been some serious buzz building for this book, and that buzz should only grow once people get their hands on it. …[The Thousand Names is] sure to hit the spot for fans of military-themed epic fantasy." – Tor.com
"Teresa Frohock's debut novel, Miserere: An Autumn Tale, is one of the most grossly under-read novels of the last few years…. Filled with show me now and tell me later prose, it was one of the finest debuts of 2011 and remains a novel that I remember details from nearly three years later." – Tor.com
Bradley Beaulieu is a fellow Wisconsinite, and recently also became a DAW author. Plus, he's a regular contributor to Worldbuilders, including both a tuckerization and critique up for auction right now.
When he sent this book, which is limited edition with only 100 copies in print, we were only too happy to accept.  And because we love you, it's in the lottery, for anyone who donates on the Team Page to win.
All three of these are also limited editions, with only 100 printed, again generously sent by Bradley Beaulieu, and again in the lottery.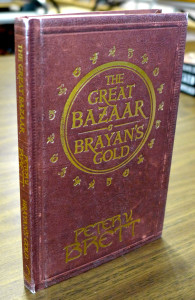 Peter V. Brett has also been a big contributor to Worldbuilders for years, even before he agreed to shave Myke Cole's head.  A few years before she started working here, Amanda won a first edition copy of his first novel from the lottery.
This is extra cool, because it's a collection of two different novellas Peter had published by Subterranean Press, both of which are sold out now. This edition was published in the UK.  It's not exactly easy to grab in the states, so we've put it up for auction. Head over and bid if it tickles your fancy…
For those of you who haven't read Peter's books, we think you should.  We're putting the full set of his novels into the lottery.  Warded Man and Daylight War are both first editions.
To boot, Warded Man has both its original dust jacket, and the new one they printed so it would match the rest of the novels.  They did the same thing with Name of the Wind, so you know all the cool authors are doing it.
*     *     *
Heads up: all of the auctions for cameos and critiques are ending this Sunday, so make sure to go over to our eBay page to keep an eye on them.
Keep up with the fundraiser on the blog, and get details about how to win thousands of lovely books donated by authors and publishers.
Want to see what sorts of things you can win in the lottery?  Head over to the Lottery Library page to see everything we've posted so far.