Today's blog contains a LOT of books that are going into the lottery.
It's not that we don't enjoy doing things things like our Black Friday festivities, but the lottery is really the heart of Worldbuilders. We know you want to make the world a better place. So we just sweeten the deal a bit by giving you a chance to win cool stuff for every $10 you donate directly to Heifer International on our team page.
After all, only $30 gets a family the gift of Honeybees.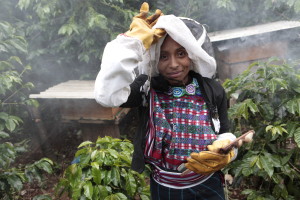 Feliciana Martin  is a small-scale coffee farmer. Her acre farm barely supported her and her daughter until she received the gift of honeybees from Heifer International in 2012.
Since then, Feliciana has seen a noticeable increase in her coffee harvest every year. She has also been able to collect and sell honey, providing her with additional income. As a bonus, coffee honey is believed to taste better than regular honey, so she is able to charge about 10 percent more.
(Additional note: Now I *really* want to try coffee honey.)
She collected 60 pounds of honey in the first six months and doubled the number of hives she owns. Then she trained some neighbors on the proper care of bees and gave them hives to start them on their own road to increased independence. This is called "Passing on the Gift." All Heifer recipients take part it, and it's a big piece of what makes Heifer's work so successful.

Martin dreams of a better life for her daughter. Now she can make that happen.
That's what happens when you donate thirty bucks….
* * *
…well, that and you get the chance to win a ton of books like the ones we're showing you today.
DAW is my publisher, and they've been a big supporter of Worldbuilders since the beginning. This year they've sent us many, *many* books. Hundreds and hundreds. Some are stand-alones. Some are full series…
And many of them are signed, like these from the lovely Seanan McGuire….
The Toby Daye series: Rosemary and Rue, A Local Habitation, An Articifical Night, Late Eclipses, One Salt Sea, Ashes of Honor, and Chimes at Midnight. All signed by Seanan McGuire.
"Well researched, sharply told, highly atmospheric and as brutal as any pulp detective tale, this promising start to a new urban fantasy series is sure to appeal to fans of Jim Butcher or Kim Harrison." – Publishers Weekly
Set of the InCryptid series: 

Discount Armageddon

, 

Midnight Blue-Light Special

, 

Half-Off Ragnarok

. All signed by

Seanan McGuire

.
"Mixing mythology and monster lore (plus a good helping of snark), Discount Armageddon is fast-paced, funny and boasts a salty-sweet heroine who can cha-cha, foxtrot, and kick ass––or any combination thereof––while she sprints her way across the rooftops of Manhattan, policing and protecting the denizens of New York City's supernatural community." – Amber Benson
Set of Sparrow Hill Road ARC and a cover flat. Both signed by Seanan McGuire.
"This is the first in what we hope will be a long series about those who walk the ghost roads from the marvelous McGuire, who writes like a dream and creates wonderful, complex, sympathetic characters like Rose and then places them in peril." – Library Journal
A lovely standalone historical fantasy which starts with the twelfth-century alchemists and ends up in modern-day New York. I tell you folks like Stephen that work with real history, weaving it into their fantasies… they kinda amaze me. I don't have it in me to do that kinda research. I just prefer to make everything up…
"Leigh strikes the perfect balance between past and present, real and imagined" – Publishers Weekly
"This beautifully told, painfully elegant story should appeal to fans of L.E. Modesitt's realistic fantasies as well as of the period fantasy of Guy Gavriel Kay." – Library Journal
The Green Rider series: Green Rider, First Rider's Call, The High King's Tomb, Blackveil and Mirror Sight by Kristen Britain. Mirror Sight is a signed, first edition in all sets.
"A fresh, well-organized fantasy debut, with a spirited heroine and a reliable supporting cast." – Kirkus Reviews
Auction

: Hardcover copies of the Green Rider series: Green Rider, First Rider's Call, The High King's Tomb, Blackveil and Mirror Sight by Kristen Britain. All include a signed bookplate, and Mirror Sight is a signed, first edition.
We got so many complete sets here that we've put one up for auction. The fifth book in the series, Mirror Sight arrived as a signed first edition, so we were eager to share it with the folks who might want it most.
If this tickles your fancy, you can bid over here.
"Bedford builds a taut story around the dangers of a new world, the Ecolibrians' distrust, and treachery from Ari and Ben's home office. Readers who crave high adventure and tense plots will enjoy this voyage into the future." – Publishers Weekly
"A real page-turner…. Outstanding characters, especially Mags, will greatly please Valdemar fans." – Booklist
"Friedman skillfully blends science fiction and fantasy elements, tying them together with fairy tales and solid worldbuilding." – Publishers Weekly
Auction

: The Coldfire Trilogy: Black Sun Rising, When True Night Falls and Crown of Shadows. All include a signed bookplate from C.S. Friedman.
"Hauntingly memorable protagonists, high drama, and vivid world-building mark the beginning of what promises to be a magnum opus of the imagination. A priority purchase for fantasy or sf collections." – Library Journal
These are some seriously beautiful books, and all three have a signed bookplate, making them even cooler. To bid, check out the eBay listing over here.
"Magic operating along scientifically testable principles: Palmatier exploits an active imagination to good effect, with characters who develop along with the story… Fantasy regulars looking for a fresh series with real bite should find it worth a try" – Kirkus Reviews
Sets of the Queen of the Dead series: Silence and Touch by Michelle Sagara.
"Brilliant storyteller Sagara heads in a new direction with her Queen of the Dead series. She does an excellent job of breathing life into not only her reluctant heroine, but also the supporting players in this dramatic and spellbinding series starter … Do not miss out!" – RT Book Reviews
"For a book all about dead things, this novel is alive with great characters and a twisty, scary-funny story that teaches you not to tango with too much necromancy. My favorite book this year, bar none." – Chuck Wendig
Sets of the Night's Edge series: A Turn of Light and A Play of Shadow by Julie E. Czerneda.
"A Turn of Light is a gorgeous creation. Julie Czerneda's world and characters are richly layered and wonderful—full of mystery, hope and, most of all, heart. Come spend some time in Marrowdell. It's worth the journey." – Anne Bishop
Auction:

First edition copy of The Dirty Streets of Heaven. Includes a bookplate signed by Tad Williams.
I've gushed more than once about how good this book is. I've mentioned it in the blog and on Goodreads.
So yeah, I'd say this auction is worth it. It's a book I wholeheartedly recommend, and getting your hands on a signed first edition copy is even cooler.
If you want it, bid over here.
"It's a provocative world of deadly enchantment in which the dirty game of politics remains the biggest threat of all." – Locus
Auction

: One of Everything Published in 2014.
(Click to embiggen the awesome)
DAW really brought the big guns this year. This set of everything they published in 2014 has over 50 books in it, and we're auctioning it off for the giant sci-fi/fantasy geeks out there. I'll sign my book for you too. It's the little blue one in the bottom righthand corner….
If you want this epic book collection, grab it here.
BONUS: One set of one of  everything published in 2014 will be entered into the lottery.
That's right folks, DAW sent us TWO full sets of everything they published in 2014 so we could put one up in the the lottery, too. Over fifty beautiful books, including a rather charming little blue-covered tome I'm fairly proud of.
*     *     *
So there you have it. Go to the team page and donate. $30 bucks will get bees for a farmer, (and three chances to win in the lottery) 120 dollars gets a family a goat and everything they need to care for it. (And twelve chances to win.) $500 dollars gets a Heifer… and I'm sure you can do the math.
The important thing is that your donation will make a lasting impact on the lives of people for for years to come, and you'll have the chance to win some really, SERIOUSLY awesome stuff in the process.