(Edit: Are you looking for the current Worldbuilders fundraiser? If so, I'm afraid you're in the wrong place.
Click here for the current fundraiser.)
What's that you say? You want to make the world a better place while simultaneously winning fabulous prizes?
Well today is your lucky day.
Heifer International is my favorite charity. It helps people raise themselves up out of poverty and starvation. All over the world Heifer promotes education, sustainable agriculture, and local industry.
They don't just keep kids from starving, they make it so families can take care of themselves. They give goats, sheep, and chickens to families so their children have milk to drink, warm clothes to wear, and eggs to eat.
(Are you ready? I'm so ready. Let's do it.)
This year we've got a couple different options for donating.
Option 1: The Lottery.
This is the option most people will want. It's simple. You hop directly over to the page I've set up on Team Heifer, and donate.
When you donate on that page, two things happen.
1. Worldbuilders will match 50% of your donation. That means your ten-dollar donation becomes fifteen dollars. If you donate two goats, it becomes three goats. And so on.
2. You'll be entered in the lottery.
After the fundraiser is over on February 7th, we'll have a random drawing for all the swag that's been donated. More than a thousand books, comics, DVD's and other cool miscellany.
For every 10 bucks you donate, your name will get entered into the drawing once. If you donate thirty bucks, your name goes in three times. Think of it as buying tickets, if you like.
We've had *way* too many books donated for me to post them all up at once. So I'll be putting up a blog full of donated books every few days, just to keep people from being overwhelmed with all the awesome.
Make sure to check back often to see the new cool.
Last year, readers and geeks of all creeds and nations donated over $190,000. It was a stunning display of generosity and goodwill.
Still, I think we can do even better this year.
But rather than set our goal too high, here's what I'm going to do.
I'm going to set our initial donation goal at $50,000. As soon as we meet that goal, I'll personally add a blog full of new stuff to the lottery. Then I'll raise the bar to $100,000. We'll repeat this in $50,000 increments until I am penniless, living on the street. Or until the end of the fundraiser on February 7th.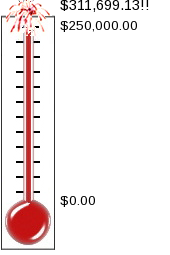 Link to the donation page is HERE.
Option 2: The Sure Thing.
Or, as I like to think of it, the Christmas Present Option.
For those of you who aren't interested in the lottery, we have some stuff you can just buy.
Our store, lovingly named The Tinker's Packs, has posters, signed books, and other delicious miscellany available for purchase. All proceeds go to Worldbuilders, of course.
Last year, we printed up some t-shirts and were amazed at how much people liked them.
So this year, we're adding something new to the mix. In keeping with our bookish theme, we've teamed up with artist Lee Moyer to produce a pin-up calendar with a literary theme.
Here's the picture for May:
You can read the blog I wrote about the calendar or head over and buy it on the store.
We'll be posting new stuff in the store over the next couple months. So stay tuned….
Option 3: Auctions.
Last year we did a few auctions and they seemed to work out pretty well. So this year we're continuing in that fine tradition, auctioning off some of the rarer and more specialized services people have donated.
This year we have professionals who are willing to read and critique your manuscripts. We have signed art and rare books. We have the chance to win guest appearances in comics and get your name into upcoming books.
Stay tuned, as we'll be adding new auctions all the time.

For a full listing of all current Worldbuilders auctions, you can CLICK HERE.
A Plea For Sanity
Lastly, I'd like to ask everyone to please read the instructions/directions carefully before they donate.
I know you're excited. I'm excited too. We're going to raise some money, make the world a better place, and end up with big warm fuzzy feelings.
But here's the problem. If you're *too* excited, you'll end up clicking buttons all higgledy-piggledy, forgetting vital steps and leaving things out. (Especially when buying things with Paypal) Then you'll send me an e-mail that says something like: "I'm sorry, but I forgot to include my shipping address/t-shirt size/signing instructions. Could you please fix it for me?"
I know I'm bound to get one or two e-mails like this. No biggie. But each one is like a cold drop of water eroding my warm fuzzy feeling. If I get, say, a hundred of these e-mails, I'll have no warm fuzzy left at all. I'll be left with nothing but a cold prickly feeling.
You don't want to give me a cold prickly, do you?
I'm sure you don't. And I'm sure that you'll read the instructions carefully.
FAQ.
Have questions? Most of them are probably answered over in the FAQ. (Even if your question isn't answered, I talk about Batman a bit, so it won't be a complete waste of your time.)
Lastly, just in case you missed it, here's one more link to our Team Heifer donation page.
Let's do this thing.
pat