Well, it looks like this blog isn't going to write itself, so I guess I should just get it over with. Like tearing off a Band-Aid….
My dad has cancer.
That's the reason I haven't been writing in the blog for the last two months. It's also the reason that I've canceled the European book tour I had planned for November.
That's the short version. There's more details below for people who want them.
Why am I writing about this on my blog?
1. I feel like people deserved an explanation.
When I canceled my European tour, it ended up inconveniencing and disappointing a lot of people. I had signings and interviews set up in England, France, The Netherlands, Germany, and Spain.
I figured I owed them more than a vague, "Mr. Rothfuss had to cancel due to personal reasons."
Along similar lines, I haven't been good about answering my e-mail these last couple months. There have been long delays and lost messages. A lot of you send in cool pictures for the photo contest and never saw the results that I'd promised on the blog.
I figured y'all deserved an explanation too….
2. To prevent gossip and rumormongoring.
When I stopped posting on my blog, the Facebook fan page, and Google+ people started asking questions. They wrote posts and sent me e-mails asking what was up. Not long after that, people started posting theories about what was wrong, where I was, what I was doing….
I knew that if I just came back after two months of silence and pretended like nothing happened, there would be *more* questions and guesses. So I'm deciding to nip it all it the bud by giving y'all the honest truth.
What kind of cancer does he have?
Lung cancer.
Those of you who have been reading the blog for a long time might remember the blog that I wrote a couple years ago where I talked about… well… a lot of things. Including the fact that my mom was diagnosed with lung cancer in the fall of 2006, and that she died about five months later, a couple weeks before The Name of the Wind first hit the shelves.
While that was happening, my dad was diagnosed with lung cancer too. In January of 2007 he went into the hospital to have two thirds of his lung removed.
Since then, we've been keeping our fingers crossed, hoping that his cancer was gone for good. Every six months he'd go in for a scan, and we'd hold our breath until the results came back, letting us know that he was clean. He passed the one year mark, the two year mark, but we knew until he hit 5 years, he wasn't really considered "cancer free."
We almost made it. But this summer, when we were coming up on our 4.5 year mark, something showed up on his adrenal gland. It took a lot of testing to be sure, but now we know that it's the lung cancer that's come back.
Essentially, it's like this:
(For some of you, this image is going to be cut off. Just click on it to see the whole thing.)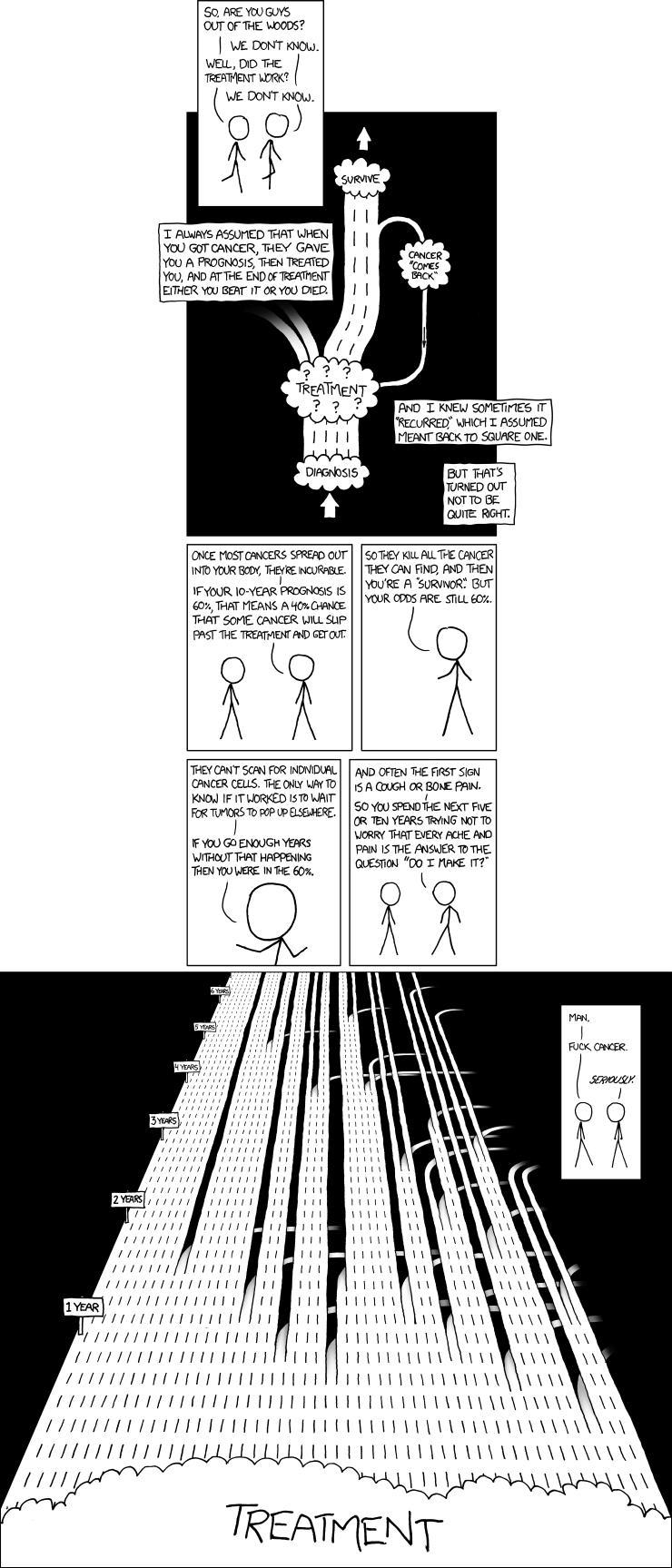 [I've mentioned
XKCD
on the blog before, and I'm guessing the vast majority of you already read it.
It's one
of my
absolute
favorite
comics
. And I dearly hope I'm not overstepping the bounds of politeness or the creative commons license by reposting the image here.
If you don't read it, you really should. The author, Randall Munroe, in addition to having vasty stores of smarts and humor, has a profound talent for clear visual depictions of abstract concepts. I would hire him to map out the snarly meta-layered skein that is the plot of my trilogy, (it would make a really cool poster) but I'm guessing he has better things to do.]
How bad is it?
The cancer is: "treatable but not curable." Which sounds nicer than "terminal," but means pretty much the same thing.
That said, things could be worse. We Rothfi are hardy stock. We could get lucky. What's more, the cancer has taken its sweet time coming back, and its moving slowly. These are both things I have come to admire in a cancer.
My dad is just starting his second week of chemo, and it's going pretty well. No huge side effects. He's feeling pretty good. He still plays golf and hangs out with Oot.
So what now?
Now I go back to writing the blog pretty much the same way I did before. Which is to say I'm going to mostly dick around, tell stories, and amuse myself.
I might talk about how things are going with my dad if I feel like it, but I don't expect it to be a regular thing.
What can I do to help?
I'm putting an answer to this question up because, as a group, y'all endlessly surprise me by being amazingly decent human beings. And I know if I don't address this here in the blog, I'll probably get several dozen e-mails (if not several hundred) offering help of various sorts.
So let me say in advance: Thanks. I appreciate the offer, but odds are unless you're an oncologist who specializes in adenocarcinoma, we're covered.
I've turned off the comments on this post for the simple reason that I don't have any desire to read comments. It's not that I don't want to hear your well-wishings, it's that I don't want to host a discussion on this topic right now. Doesn't sound like a ton of fun to me.
If you *really* want to send some well-wishings, you can drop a card to my P.O. box, and I'll pass it along to my dad.
You can address it to:
Grandfather Sir PO BOX 186 Stevens Point, WI 54481
And that's all for now.
Thanks for your patience, everyone. And stay tuned. I've got a large backlog of blogs built up, and I'll be posting them up pretty quickly.
Also, this year's Worldbuilders is on the way. We've got some cool things coming with that….
pat