Okay. I'll admit it, I couldn't come up with a good title for this blog.
What we have up there isn't just a *meh* title either. It's a bad title. It implies things that simply are not borne out in the blog itself. This is simply a blog about tattoos.
Let me make it up to you with a utterly useless etymological fact: The phrase "tit for tat" actually comes from an old Norse expression "tip for tap" which meant, literally, "If you hit me, I'll hit you back."
How do I know this? Hell. I'm an endless trove of useless, fascinating information. I don't even bother seeking it out any more. It just comes to me. I accrete it. I pluck it from the luminiferous aether. I apprehend it through examination of my Socratic soul.
It's also possible that I make some of it up, then forget that I make it up. Or that I dream it. Or that I lie. But you know what? Sometimes I make shit up, and I *know* I just made it up, but it turns out to be real anyway. Or real enough, at any rate.
Anyway, tattoos.
Several years ago, I met someone that had tattooed my signature on their arm. An act of devotion that was equal parts flattering and flummoxing. But I assumed that that event was going to stand by itself as a statistical anomaly.
Then, a while later, someone dropped me a link to a literary tattoo page. I just went looking for now so I could link to it, and got 404'd, but I did find the photo archived somewhere else….
If I remember the story from that now-defunct website correctly, she'd been through a bad breakup, and got a Kvothe's quote as a reminder for herself.
At first I thought, "Wow. That's pretty cool." And, of course, I was flattered, too…
…but more than that, I realized I was oddly proud. Those words are words I'm proud to have someone claim as their own.
Since then I've had perhaps a dozen people e-mail me or facebook me pictures of their NOTW tattoos.
Most of them are texty:
("And the sun will still rise in the morning.")
Some are no text at all…
Some have quotes I would expect….
Some have quotes that were a surprise to me….
("Vorfelan Rhinata Morie")
And some that are as simple as they are obscure: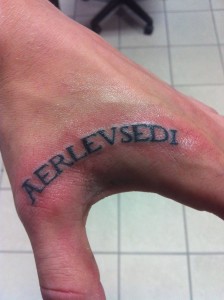 The horrible thing is that I know I have more pictures than these, but I can't for the life of me find them on my computer. I haven't cleaned up my desktop in… well… years at least. Maybe forever.
But rather than postpone this blog as I have so many others, I'll post it up for now, incomplete as it is, with the hope that these pictures bring you some of the geeky joy that they brought me….
Wearily but with love,
pat