So a couple months ago, I unlocked another achievement in the great sandbox videogame that is my life.
Specifically, I hit 10,000 pieces of fanmail.
While I occasionally answer questions people send me, or post quotes from letters up on facebook, I haven't actually written anything about fanmail itself since…
*Pat goes to check the archives*
Wow. Since five years ago. I did two blogs back then. One talking about fanmail in general. And another giving some memorable quotes.
Back in October of 2008, I'd just hit 1500 pieces of fanmail. I was pretty sure it was impossible to get any more mail than that.
Back then, I made a point of answering every piece of fanmail. It's something I put a lot of effort into, and a lot of time. It was really important to me…
Fast forward to today.
For those of you that are into the specifics, I should clarify that this 10,000 mark is kinda arbitrary. I'm only counting messages that come to me through my website's contact form. (Right now, because it's taken me a couple months to write this blog, that total is standing at closer to 12,000 messages.)
That total doesn't count people who e-mail me multiple times. Folks that contact me through other channels, or messages sent to me through facebook, goodreads, or good old-fashioned paper letters.
Here's several hundred RL letters that have been sent over the years. I don't know if it's weird for me to keep them, but throwing them away seems unspeakable awful.
I'm guessing that if I totaled up all these varied instances of epistolary perspicacity, it would be somewhere closer to 20,000 pieces of mail.
Back in 2008, I wrote:
Fanmail is great. There have been occasional exceptions to this, like the guy who sent me a message saying that he hoped a dog would bite me on the nuts. But even that made me laugh.
This is still true today. The vast majority of fanmail I get is friendly, witty, touching, or funny. People send me useful info. People tell me stories of how my book has impacted their lives.
Here's one I got a while back:
Your books have given me a way of communicating with a teenage son who has now metamorphosed from a complete alien to a fine young man.
As a dad myself, I can hardly think of a nicer thing to hear.
Unless it's something like this:
I would forever live with a small piece of my heart unfulfilled had I not met Kvothe.
I have hundreds of these little snippets from messages my readers have sent me. I hoard them like treasure. Sometimes the best part of my day is a short message someone has sent me. Sometimes it's a 15 year old girl from Brazil. Sometimes it's a 70 year old grandmother in Virginia.
But I won't lie to you. It's not all good…
*      *      *
Here's the thing. I used to respond to every piece of fanmail. Even if it was just a brief note. Even if it took me months to get the message out.
Not responding never really occurred to me at first. After all, a lot of these people had written elaborate letters, or said really touching things. Not responding would have felt unspeakably rude….
But eventually I had to give it up. If the reason isn't obvious, here's a visual aid to drive the point home….
That's a screen capture from my sent items folder back in 2008. If you embiggen it, it paints a grim picture of what my day was like.
So I stopped replying to everyone. It was a slow decline. At first I still replied to most of them. Then half. Then maybe a third. These days it's dwindled to about one in ten, and even those replies are usually brief.
But the truth is, I never decided to cut back. It's nothing I ever wanted or deliberately chose to do. It's something I was forced into because there simply weren't enough hours in the day. And honestly, I still feel guilty about it.
My one consolation was that I still make a point of reading all my fanmail. On facebook. On goodreads. I read it all.
Well, that's not entirely true. Sometimes I would get a 4000 word message. Those I skim.
But I'm guessing that the math-savvy among you can see the problem looming, can't you?
Let's say I can read each message in just one minute. One minute x 20,000 e-mails ends up being well over 300 hours.
That means just to read that many messages takes me two months of full-time work. That's assuming every day I did nothing but read e-mail for 8 hours.
That doesn't count the time it might take me to occasionally respond to a message. Or reading the messages that are more than just 60-70 words long. Many of them are 200-300 words. About as much text as page in a paperback novel.
A more realistic estimate would probably be that it takes me 2-3 minutes on average to read a message.
That means that since 2007, I've spent between four and six months of full-time work reading messages people have sent me.
God. I've honestly never done that math before. I knew it was a huge chunk of time, but not that much. That's fucking horrifying.
Because that doesn't take into account me *replying* to messages or actually taking care of the rest of my daily e-mail. And I get a shit-ton of that, too.
I guess it does make me feel a little better about this though:
(Yes. I use an archaic e-mail program. Don't judge me.)
Let's ignore the 100+ regular unread messages. And the flashing danger light that is more than 100 unread messages deliberately tucked into a folder called "Important."
Circled in red, you can see that I've got more than 300 unread pieces of reader mail. I'm terribly behind.
And that's not counting Goodreads:
There's 80 unread messages piled up there.
My facebook fan page has another 250….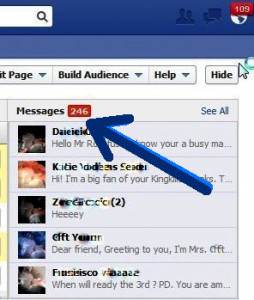 And that's *despite* the fact that I've pointedly mentioned that it's a bad place to contact me.
I'd also like to point out that these aren't a year's worth of messages. It's just these last couple months where things have really started to spiral out of my control…
Here's the worst of it:
The stack of unread letters. 50 or 60 of them from all over the world. Probably half a year's worth. People WROTE these on real paper. They paid money to mail them to me. These are tangible acts of affection, and I've been too busy to give them the time they deserve.
And I feel awful about it. All the time.
I was keeping up pretty well until a couple months ago. I jump in occasionally and prune the online messages back…. but it's like kudzu…
No. That's not right. Because I'll say it again, the vast majority of these messages are friendly, or heartwarming, or delightfully eccentric.
Dear Pat,
I admitted to my boyfriend that his only real competition is Kvothe only to have him admit that my only real competition is Kvothe too. I'm simultaneously flattered that only Kvothe can outshine me and impressed that my boyfriend's sexuality is now under question due to a couple of words you put together.
Though occasionally there are other types of messages….
But I don't know if I want to get into that. I don't know if y'all would be interested in hearing about the other kind of messages people send.
On to my point–
Creft. What is my point here? I don't know anymore. When I started writing this blog hours ago, I really didn't expect it to get as long as this.
I think these are my points:
1. Part of this is just bitching a little. I'll cop to that.
And while I'm well aware that it's hard to get more first-world-problem than: "Oh noes! I have too many fanmails!" the truth is that this *is* my blog. I'm allowed to kvetch a little if I want.
2. Much more than that, this is a blanket explanation and apology to everyone who has e-mailed me and never received a reply.
I am sorry. I wish I had all the time in the world so I could e-mail you back and thank you for taking the time to drop me a line. I wish we could all have lunch together and hang out and talk about fun, useless bullshit all afternoon.
3. I want y'all to know that even if I haven't replied, I have read your e-mail, your message, your letter, your postcard, your engraved clay tablet, your origami crane, your smoke signal, your telepathic space beam.
I have these missives and appreciated them. They have made me smile and they have made me weepy. They have made me feel proud, and loved, and very, very lucky.
That said, things will have to change soon. I'm not sure *how* they will change, but I need to find a way to keep more time for myself while not feeling hellishly guilty about being selfish for keeping time to myself. This is a hard thing for me.
Until I say otherwise, know that I'm still reading your messages.
Eventually.
Fondly,
pat