This is a Worldbuilders blog.
Before we jump into today's blog, I should take a moment to explain what an ARC is. ARC is an acronym for Advanced Reading Copy. They're also called review copies or galley proofs.
These are the books a publisher prints *before* a book is printed, so they can promote the book.
A few things you should know about ARCs:
1. ARCs are usually pretty rare. More so than first edition books.
2. ARCs are sometimes significantly different from the finished version of the book.
(For example, I significantly re-wrote two whole chapters of NOTW between the ARC and the book that hit the shelves. To say nothing of changing about a thousand tiny mistakes and fixing another thousand word choices…)
3. ARCs give you a chance of reading a book before it's officially published. When I get hold of one, I usually use it to taunt people on Goodreads.
I mention this because today's blog has a bunch of ARCs, most of them signed by the authors. Some of them are going in the lottery, where anyone can win them by donating on our Team Heifer Page. Others are going up for auction on eBay.
When we have multiple copies, they're going in both places. The best of both worlds…
Books from Gollancz:
Gollancz is my UK publisher, and while I was over there for World Fantasy Con, they handed me a bunch of donations for Worldbuilders. These are all UK editions which are cooler than the US version because they leave the "u" in "colour" and "flavour" and… um… "parkour."
Needless to say, it's tough to find these editions here in the US. Especially signed by the authors. A lot of these will include some promotional swag from Gollancz as well…
"Filled with lush descriptions, intriguing magic, and plenty of twists, this memorable adventure offers action and intrigue mixed with an undercurrent of romance and danger." – Publishers Weekly
"While it's Hill's most sprawling novel to date, NOS4R2 contains some of his finest writing yet." – SciFi Now
"A riveting world, a fierce heroine, and electrifying action–I burned through this sparkling debut!" – Sarah J. Maas, NY Times bestseller.
This book is out in the UK, but won't be release until May of 2014 in the US.  The lucky lucky lottery winner who gets this book, will be able to read it long before it hits the shelves here in the states.
Set of the Gentleman Bastard novels.  Signed by Scott Lynch. Comes with promo buttons.
I've already gushed about how much I love these books on Goodreads. So if you're really interested, you can check out my review over there.
But you don't need to take my word for it.
"This is a fresh, original, and engrossing tale by a bright new voice in the fantasy genre. Locke Lamora makes for an engaging rogue, and Camorr a fascinating and gorgeously realized setting, a city to rival Lankhmar, Amber, and Viriconium. I look forward to returning there for many more visits." – George R. R. Martin
Set of the Gateway omnibuses published this year – 20 volumes of superb SF classics.
These omnibuses are awesome collections of some of the best classic stories in the genre, by some of the best authors in the genre. They're available through the SF Gateway, which is a great project that is trying to keep lesser-known works by famous authors available for fans.  Most of their stuff is available in ebook format, but every so often they'll print up physical copies like these. So while you might recognize a few authors, you may not have heard of some of these novels. Either way, you're in for a treat.
These books are collections of work from Edgar Rice Burroughs, Poul Anderson, Robert Silverberg, Jack Vance, Joe Haldeman, Robert Holdstock, James Blish, Bob Shaw, Frank Herbert, James Blaylock, Kate Wilhelm, Keith Roberts, Sheri S.  Tepper, Gordon R. Dickson, and E.E. Smith.
There's a set going into the lottery, but since Gollancz is awesome and sent a couple…
Auction

: Set of the Gateway omnibuses published this year 
We're also auctioning a set off over here for those of you who really want it.
Holly Black is also one of the authors in our Fantasy Author Calendar.  Remember, every purchase of that has a portion of proceeds donated to First Book, and for the month of December every donation is tripled.
Auction

: The Coldest Girl in Coldtown. Signed by Holly Black.
We're also auctioning one off over here, for those of you who really want it now.
"Sarah [Pinborough] has a knack of weaving a tale that'll twist around you making you addicted in no short time." – Fantasy Faction
Poison is the first book in a new trilogy that follows a more modern, adult take on classic fairy tales. If you like shows like "Grimm" or "Once Upon a Time," this series could be just what you need.
This is a beautiful ARC, so we've put one in the the lottery, but since Gollancz was generous with us we're also putting one up for auction:
You can bid on a copy of this ARC over here.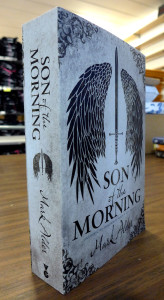 This huge ARC  is for a book that isn't due to be released anywhere until April of 2014.  No matter how you get it, you'll have it before it hits shelves. It's got quite a hook, too: imagine the Hundred Years War played out in an alternate history where religion is literally true. God Himself really chose the king. Angels and Demons really do meddle in the affairs of men. And Mark Alder knows his history. How can you walk away from that?
Auction

: ARC of Son of the Morning. Signed by Mark Alder.
For those of you who want to get your hands on this before its release, there's one up for auction over here.
"A sequence of unalloyed delight" – Guardian
Honestly, that doesn't do the Discworld books justice. Here's a different blurb I'd give, for a Pratchett book, if he ever needed one from the likes of me: "There might be a few authors as good as Terry Pratchett, but I honestly don't think there's anyone better."
These are some beautiful hardcovers, and Gollancz was generous enough to send a few sets over, so some are going into the lottery.
And one set is up for auction over here. The auction says three books, but Hogfather was late to the party – you actually get all four.
ARC of The Boy with the Porcelain Blade. Signed by Den Patrick.
Den Patrick is known for his humorous writing (see his War Manuals below). This is not humorous. This book is downright dark. So far the buzz about this book makes Game of Thrones sound like Happy Rainbow Place (not a thing that exists, but I couldn't think of a suitably happy sounding thing).
This one isn't out until March.  It's signed, and it's going into the lottery for you to have a chance to win, just by donating $10 or more to our Team Page.
Auction

: ARC of The Boy with the Porcelain Blade. Signed by Den Patrick.
Anyone who wants to be certain they'll have their hands on this before the release date should head over here and bid.
Hardcover set of "War Manuals" books. Signed by Den Patrick.
"This is a handy stocking-filler for those who like their fictional worlds filled with detailed diagrams, or those who are simply nostalgic for books like Volo's Guide to the Forgotten Realms and the like." – Starburst Magazine
This is a beautiful set of books: source books about Elves, Dwarves, and Orcs for the average military trainee. I've heard Den Patrick's humor compared to Terry Pratchett's, which is pretty high praise indeed.
Auction

: Hardcover set of "War Manuals" books. Signed by Den Patrick.
We're also auctioning one set off over here, where there are more pictures to show you how cool they are.
Auction

: Signed, hardcover ARC of The Gospel of Loki by Joanne Harris.
This is awesome.  ARCs are rare, but a *hardcover* ARC is unheard of.  You can tell just by looking at it that this book is going to be worth the read.  And yes, you can judge books by their covers – that's why they have covers.
Even cooler, this book isn't going to be out until February.  We've decided to auction this off, so that someone can get it and read it before the official launch date.
If you want to get your hands on this, be sure to bid over here.
Signed books from Dreamhaven:
DreamHaven Books in our neighbor state Minnesota has been supporting Worldbuilders for a while now, and they always send us some really cool collectibles, signed, rare, you name it. They're an awesome mix of bookstore and publisher, so they send us some of their favorite things every year.
We appreciate DreamHaven with a warm, velvety love.
Neil Gaiman reading some of his best short fiction is always worth listening to, and a signed copy of this  2-CD release is a nice little bonus. The selections here are all from his Angels and Visitations compilation which, as you read ahead, you may notice…
Auction

: "Warning Contains Language" CD. Signed by Neil Gaiman.
One is also available as an auction, so if you're interested, head over and bid.
Hardcover copy of Angels & Visitations. Signed by Neil Gaiman.
We're tossing one of these awesome, illustrated collections of short stories into the lottery.
This collection has some of Gaiman's earliest writing in it.  It was published before American Gods, Neverwhere, even Smoke and Mirrors, and it was published by DreamHaven.  This is the only place you can find some of his non-fiction from the late 80s and early 90s.
It's fairly collectible, so having a chance at it just by donating on the team page is pretty awesome.
Auction

: Hardcover copy of Angels & Visitations. Signed by Neil Gaiman.
This is also available as an auction, so if you're interested, head over here. For the ultimate bedtime kit, see if you can win Warning: Contains Language as well.
"Christopher Moore is a very sick man, in the very best sense of the word." – Carl Hiaasen
I'm a huge fan of Christopher Moore, and this is a lovely first edition copy of the book, so we're auctioning it to make sure it ends up with someone who will really love it. You can bid over here.
Auction

: Signed trade paperback copy of Don't Panic by Neil Gaiman
"Certainly the most outstandingly brilliant book to have been written about The Hitchhiker's Guide to the Galaxy since this morning" -Douglas Adams
A lot of people don't realize that before Gaiman did fiction, he was a journalist. And this is one of his earliest books – published in 1988, it was his second book, after, I am not joking, a Duran Duran biography.
Bid on this awesome companion guide over here.
A beautiful, signed, first edition book from Anderida Books:
Anderida Books like DreamHaven, are connoisseurs of limited edition, signed collectibles. This year, they kicked in a very impressive donation that we couldn't help but auction off.
Auction

: A copy of The Graveyard Book, British first printing. Signed & doodled by Neil Gaiman.
"The best book Neil Gaiman has ever written" – Diana Wynne Jones
I love this book. I've listened to it with my boy, I've read it on planes and bought copies for friends.
If you want a chance to own this, or just want to ogle more pictures, be sure to bid over here.
*     *     *
No idea what's going on here?  Learn more about the fundraiser on my blog, specifically, you can get details about how to win thousands of lovely books donated by authors and publishers.
Want to see what sorts of things you can win in the lottery?  Head over to the Lottery Library page to see everything we've posted so far.
If you'd like to see *all* the auctions we're currently running, check the Worldbuilders eBay page.