Well folks, the fundraiser is almost over.
As I write this, Worldbuilders has raised $570,000 for Heifer International. Geeks of all creeds and nations have come together to make the world a better place. I am stunned and humbled and ever so slightly tingly at how supportive the community has been.
Today we have our last donation blog, and, according to tradition, it's a miscellaneous blog. We've got signed books, weaponry, and other esoterica that didn't have a tidy place anywhere else.
Believe me when I say, we've saved some of the best for last.
Keep in mind that while a *few* of these items are up for auction on E-Bay, the vast majority of these items, especially the books, are going into our prize lottery:
We have more than $70,000 worth of books we're giving away this year. Signed books. Rare books. First edition books. Books you simply cannot get anywhere else.
Remember, for every 10 bucks you donate on the Worldbuilders Team Page you get another chance to win.
Y'all know who Christopher Moore is, right? He wrote Lamb, You Suck, Sacre Bleu….
The truth is, if you aren't reading Christopher Moore, you're missing out on one of the most brilliant, diverse, genuinely humorous storytellers in existence.
Here we have a signed Advance Reading Copy of his upcoming book: Serpent of Venice.
We're putting this book in our prize lottery, where anyone can win it if they make a donation to Heifer International on the Worldbuilders Team Page.
That's right, you have a chance to read it before it even hits the shelves. You can taunt your friends. You can be smug on Goodreads.
At least that's what I'm planning on doing if I win it…
First Edition copies of Island of the Sequined Love Nun and Fool. Signed by Christopher Moore.
"[Island of the Sequined Love Nun has] humor that seamlessly blends lunacy with larceny … habit-forming zaniness …." – USA Today
These are both are first editions that Christopher signed and sent to us. They are lovely, rare books, and I covet them. I desire them with a terrible desire.
Fool is my favorite of Moore's books. And the staff here at Worldbuilders have deliberately put these books into the lottery, knowing that if they were in an auction, I'd bid a crazy amount of money to win them, potentially bankrupting myself and endangering their jobs.
That shows what they know. If I cannot bid on an auction, I'm going to donate on the team page instead with the desperate hope of winning them for myself.
(If you end up being the person that wins them, send me an e-mail. I'll trade you some ridiculous things in exchange. Seriously.)
Sets of Galactic Football League: The Rookie and The Starter by Scott Sigler.
Here we have a fantasy series based in a world where pro football is a lethal sport played by humans and aliens, and financed and run by organized crime. Being the bookish geeks we are, we assumed it was already like this.
"In the Galactic Football League, wars are no longer fought in space, but on the gridiron. If you like aliens and football then I suspect you're unlikely to find a better combination than THE ROOKIE. –Phil Plait, Discover Magazine
Auction

: A set of The Twelve Fingered Boy and The Shibboleth.  Signed by John Horner Jacobs.  The Shibboleth will be released in March.
We've got a few sets of this in the lottery already, but we thought we'd auction a set off, as well, since The Shibboleth won't be released until early March.
If you want to get your hands on this sweet pre-release, bid here.
The Full Geek A Week Card Sets 2, 3, 4, and a Special MythBusters Set.
The awesome Len Peralta thought it was high time to put geek heroes on trading cards. Len interviews an awesome geek, draws them, and then turns them into a trading cards, with the write ups on the back written by Storm (of Paul & Storm).  In this prize there's seasons 2, 3, and 4, as well as two special MythBusters sets created for Discovery Channel and San Diego Comic Con in 2012, and they're signed by Adam and Jamie.
We're putting one of these in the lottery where anyone can win it, and another in an auction….
Auction

: The Full Geek A Week Card Sets 2, 3, 4, and a Special MythBusters Set.
Len does great work.  I was on an episode of NSFW Show with him a couple of weeks ago, and it was hilarious to watch him whip something together while everyone talked.  In case you couldn't guess by the title of the show, this may not be safe for work (depending on where you work).
If you'd like to grab this yourself, you can bid on it in an auction over here.
(And if you'd like to get in on Len's current Kickstarter, where I'm doing a guest appearance, you can find it over here.)
The guys over at Esoteric Garage have been donating to Worldbuilders for a while now, and this is their epic donation for this year.
Here we have a warded axe and a pair of warded arrowheads, based on Peter V. Brett's books. These sort of weapons are how people fight the demons that take over at night, and would scare off any demon threatening your homestead.
If you want them, you should really bid over here.
Esoteric Garage actually sent along four warded arrowheads, so we thought we'd spread the love around a bit by offering up two of them separately, for those of you who live in small appartments with limited room for axe storage, but still would like to protect yourselves from demons.
They're up for auction over here.
A set of the Miriam Black series. Signed and inscribed by Chuck Wendig.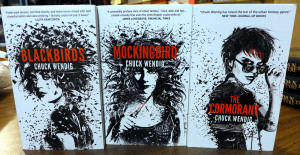 "If you're looking for a sassy, hard-boiled thriller with a paranormal slant, Wendig has established himself as the go-to man." – Keith Brooke, The Guardian
So if you can tell when someone is going to die just by touching them, you just don't touch people, right? Easy! As it turns out, no. So say you touch someone–just ignore it, right? Well, you're a good person, so that's not an option. So how much trouble can you get into by helping the nearly-deceased? As it turns out, all of it.
"A raging flood of heroic pulp action!" – GeekDad
Psychic dinosaurs attack Manhattan. With those four words, we have triggered much want within you.
Unclean Spirits and a first edition of Under the Empyrean Sky. Signed by Chuck Wendig.
"This story is just plain fun. Dark, sometimes horribly creepy, but fun." – Fantasy Book Critic
Auction

: A copy of The Kick-Ass Writer.  Signed by Chuck Wendig. 
This book is filled with tips and tricks for the aspiring author who hopes to be published.  If that describes you pretty well, be sure to go over here and bid.
Auction

: Comedy musician Mike Phirman will write a ringtone for you.

This is another one of those auctions where we're amazed at the sorts of things people are willing to do to help us out here at Worldbuilders.
Mike has, among other things, worked on Learning Town with Paul and Storm, and is willing to write you your own personalized ringtone, and then record it and send it to you.
For more information, and to bid, go over here.
Auction

: A consultation with professional animal trainer Laura VanArendonk.

Laura is a really cool person.  She donated one of these last year, and it went over really well, so she's doing it again.
The consultation will be via video  or phone, and she'll include a signed copy of her bestselling training book, Fired Up, Frantic, and Freaked Out: Training Crazy Dogs from Over-The-Top to Under Control.
To bond better with your dog, go here and bid.
"Practical Deemonkeeping is practically perfect!  It's one of the few and special novels that conveys a sense that the author had as much fun writing it as his audience will have in reading it.  Can hardly wait for the next one – the Moore, the merrier!" – Robert Bloch
(Again the Worldbuilders staff taunts me.)
"Drawing on deep research (detailed in an afterword), McIntyre vividly re-creates a Versailles poised on the cusp between alchemy and modern science. Her imaginings enliven her history with wonder, but, as in the best fantasy, they serve less to dazzle by their inventiveness than to illuminate brilliantly real-world truths about humanity's responses, base and noble, when confronting the unknown." – Publishers Weekly
This swirling tale won a little thing called the Nebula Award for the best novel of 1997. And if that doesn't entice you, there's a sea monster in it. Can't resist sea monsters. Also, this might be the first blog post to feature two different sea monsters, so how can you say no?
Peter Orullian set up a great little event for the fantasy geek in all of us.  He'll coordinate with you on a date, and (so long as you can get yourself to Seattle) you'll all go out to dinner, tour the Fantasy exhibit at the EMP Museum and have an all-around great time.
To be the coolest of the cool, go over here and bid.
Auction

: Lock In and (Not) Lock In – the novel and the seven chapters cut from it.  Signed by John Scalzi.
John Scalzi has sent along a signed copy of his novel, Lock In, which we thought was pretty cool.
He also sent along seven chapters he had to cut from the finished novel, printed and bound into a paperback book. We thought that was seriously awesome because he only made four for himself. This is one of those four. Of course he will sign and personalize it to the winner.
If you've ever wondered what gets cut from some novels, you can see if you just bid on this right over here.
The Tinker's Packs: Cunning Knit Hats in various styles
It's become something of a tradition at this point for someone to knit us some cunning hats for the fundraiser, and this year is no different.
Even cooler, we have regular hats for folks to wear, as well as some adorable, tiny hats, which are on keychains, pins, and loose. Clementines not included.
If you want to buy one all for yourself, go over here and grab them before they're gone.
*     *     *
Keep in mind that our auctions and the fundraiser itself are ending soon. So if you've been waiting to donate, now is the time.
Consider this fair warning: if you end up getting distracted by Superbowl commercials tomorrow and miss your chance, you'll end up kicking yourself. Trust me on this.
Thanks for helping to spread the word, everyone.
pat