Hope you all had a lovely thanksgiving. For those of you who don't live in the US, I hope you had a lovely random Thursday. Myself? I took a rare day off, and spent time with Sarah and Oot and Cutie Snoo.
Today we're having some Black Friday festivities here in The Tinker's Packs. We've got new items we've been waiting to show off, and I'm guessing that some of you have some holiday shopping you'd like to do.
As an added bonus, you won't get trampled to death shopping in the Tinker's Packs. Not even a little. You have my word. That's actually part of our mission statement. "The Tinker's Packs wants to sell you fun, geeky things and make the world a better place by donating all our proceeds to charity. Also, nobody ever gets trampled to death (TM)."
Anyway. Here's what's going on in a nutshell. Or at least a numbered list.
 We've got new items in the store.
 Some of the items are of limited quantity.
 We're offering some money-saving deals in the store.
 Some of the deals are of limited quantity.
For example, down below you'll see we're putting the decks of Pairs cards set in my world up in the store. If you buy all four decks, you save some money. But we've only got 150 of those up in the store. After that, if you want all of them, you'll have to pay full price.
Get to clicking…
I was really surprised by how much I enjoyed this game. And most everyone in the office has played at this point. It's cooperative, and you play as a team of super heroes, fighting against a super villain. Each hero has power ups and special abilities to help fight the villain, defend against them, or support the other heroes and make them stronger.
And guess who has been added as one of the heroes?
The folks over at Greater Than Games are awesome, and made a special promo character just for us. If you've already got the game and the Rook City Expansion, you can replace your Argent Adept card with Kvothe, and he'll play with that deck.
If you DON'T already have the game OR the expansion, you can grab one or both over in The Tinker's Packs, as well as the card.
Also, as part of our Black Friday special, we've got an offer of two of the limited edition Kvothe cards for $20, rather than the $30 it would normally cost. So if you want to have one to play with and one to keep as a collectible, you can do that for a little less.

We ran a kickstarter for these earlier this year. Now that the kickstarter has been fulfilled, we're putting the decks up in the store for those of you that missed the boat.
(The full art for the Commonwealth deck. Click to Embiggen.)
I need to stress here. This isn't just a deck of playing cards. It's an entire game that you can learn in 3 minutes and play with your friends. I wouldn't have partnered up with James Ernest if I didn't think it was a cool game to have in my world.
(All the Art for the Faen Deck. Well worth Embiggening.)
We've got four decks, each with their own distinctive art and alternate rules for play. There's the Commonwealth deck, (the one Kvothe would use) The Faen Deck, the Princess deck, and the Modegan deck, which is from a part of the world y'all haven't even seen yet.
We're also running a deal where you can grab all four decks at once for a discount. But fair warning, there's a limited number of those bundles.
If you want to grab some of the decks, just see more of the art, you can find them over here.
A lot of people asked if we'd have Worldbuilders Mugs in the store after the IndieGoGo fundraiser, so we've finally put them up.
These are beefy coffee mugs, that even fit my giant man hands in the handle. What's more, they're made here in the US by a company that prides itself on paying its employees a living wage, not mass-produced over in China.
If you want one, we've got them in the store right now.
Name of the Wind Posters.
We're putting up posters from the NOTW Card Deck, The Clubs Court Cards: Ace, King, Queen, and Jack.
You may notice that the King, Queen, and Jack make an interesting triptych:
We have a limited quantity of each, so go grab yours while you still can.
We've also got the Jokers: Auri and Elodin.
Auri was based on Felicia Day, and Elodin was based on Neil Gaiman, and I think they turned out great. If you want either of them to appear in your abode, you can buy Auri here and Elodin here.
We also have Auri and Elodin available as magnets, if you're interested in such things
You can grab the pair of them over here.
We also have the poster that showcases all the court cards in a single print.
(Seriously, click to embiggen this one.)
It has all the Court Cards in all of their beautiful glory. If you're having a hard time choosing between the options you have, you can always just grab this one and have nearly all of them in one place.
Earlier this year we ran a delightfully successful IndieGogo to support Worldbuilders. Not only was it a huge success, but I lost a bet with my staff and had to buy everyone milkshakes after we raised over $200,000. To celebrate, we made bonus gold foil stickers that went into everyone's order.
People loved those stickers. They were the thing most people took pictures of when they sent us pictures of their prizes. Before the t-shirts, before the books, before the mugs, we got pictures of that sticker. So we're trying something new this year.
We printed up some magnets to commemorate Worldbuilder 2014, the year of the Milkshake. We're only going to sell it for the rest of the year, and then it will be done and we'll do a different magnet next year.
So. If you want to let your charity flag fly, you can buy one over here.
The folks at Badali got early copies of The Slow Regard of Silent Things so they could help me design this necklace. It's based off Nate's illustration of the gear from the book, and I have to say that the folks at Badali nailed it.
It's all brass, and this picture is actually of Amanda's necklace, which she ordered about 15 minutes after Badali made the item live on their website.
We *just* got our first shipment of necklaces from them, and I'm delighted to be able to put them up in the store for this sale. To sweeten the deal, I've signed the cards of authenticity for the first round of necklaces. Of all the things we're putting up today, I think this is going to sell out the fastest, so if you want one, you might want to grab it over here.
Edit: So… yeah. This sold out really *really* quickly.
We'll have more in the store as soon as we can. But in the meantime, if you're looking for other cool Kingkiller Jewelry, we have a bunch of other things in the store, including Denna's Ring, Talent Pipes, and the Vintish Court Rings.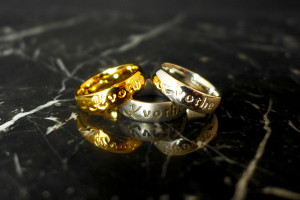 You can see all the jewelry over here.
* * *
So there you have it, folks. New coolness, and all of it will count toward our fundraising goal, pushing that thermometer closer and closer to cool stretch goals, like John Green eating a blenderized Heifer International meal, or the Strong Bad making a new video just for Worldbuilders, or Neil Gaiman reading the children's book of your choosing.
Now you can go do some holiday shopping and help make the world a better place, all from the comfort of your home.
(If you're trying to avoid the rampant consumerism of the season, but you still want to make the world a better place, you can donate directly to Heifer International over on the Worldbuilders team page. That's cool too.)