Hey there everybody. Today's a busy day.
We've got the winners (plural) in the t-shirt contest. We have a design for the Dresden Files t-shirt.
Best of all, both of these are tied into the our second-annual summer fundraiser: Geeks Doing Good.
We started doing the summer fundraiser because while I firmly believe that people want to make the world a better place, I know sometimes it's a little easier to make a donation if you get some thing cool in return. This way, you can come in, buy something fun, then sleep well at night content in the knowledge that all the money is going to a good cause.
Same as last year, the fundraiser is only going to last a week. 
We're doing this with IndieGoGo because they allow non-profits to do fundraising. And, unlike Kickstarter, they allow you to buy multiple items during a campaign. And I think (hope) a fair number of you are going to be tempted into multiple purchases.
What do we have? A lot of things. Over 40 different items at my last count.
But here are a few highlights.
(You'll probably want to embiggen these.)
In the end, we decided to go with three t-shirts from the contest. The two leading contenders (Waystone Inn and What Does It Unlock?) were nearly tied through the entire voting process. And enough people committed to buying shirts, that we decided to take a bit of a risk and bring the third place winner, too. (You Have Died of Chandrian.)
Now if your favorite didn't get picked, don't be upset. We're going to make use of the other designs in the future. I promise. But right now, we're going to stick to three t-shirt designs because… well… because we have a *lot* of other stuff in the fundraiser. Including other shirts…
Such as this one based off Jim Butcher's Dresden Files. I talked about it last week on the blog, and I'm excited to show you the final design…
 (Also worthy of embiggening.)
All these shirts are available individually, or you can get them cheaper if you buy three of them together over in the campaign.
Before we move on to the other stuff in the fundraiser. I'd like to extend my personal thanks to all the fabulous folks who sent in designs. You have wowed me with your talent, and warmed my heart with how generous you are with your time and energy. You've made our fundraiser so much cooler.
Rest assured that we'll be posting a blog where we show *all* the designs that were submitted, as well as giving you information about the designers themselves, so you can bask in the glow of their collected glory.
Karen Hallion sent us even more wonderful art for this year's calendar, and Brett has stepped up his game this year designing the calendar grids. Here's a sample of just a few of the pages, and it's well worth clicking on to see it in its full embiggened majesty.
We also have a new Beyond Words calendar from photographer Lauren Zurchin.
If you're more into fantasy authors than cartoons, never fear, we have a calendar for you, too. I haven't done my photo shoot yet, but rest assured: I'm in this calendar too. And if the last one is any indication, I'm hoping I'll look a little badass.
(For those of you who plan on gambling with namers.)
Last year we offered up 10 sets of handmade copper dice to see if anyone would be interested in them.
And people were. To our delight and amazement,  they sold out fast even though they were priced at $100 a pair.
So this year, we worked with Shire Post Mint to produce more dice and make them more affordable than before. This new design is lovely, with a pleasing weight in the hand, and they're only half the price of last year's.
What's more, we're offering an early bird option. If you're one of the first 50 people to buy a set, you get an even better deal.
Kvothe's Vintish Court Rings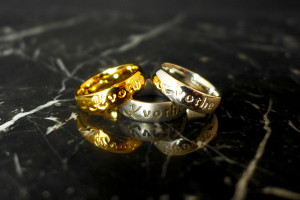 Because you need to be ready at any moment to call upon Vintish nobles. Badali did a truly wonderful job on these, including the fact that the iron ring is actually made of iron. That's not an easy thing to do.
There's an early bird special on these, too. If you get in early, you'll get them cheaper.
(Like this. Except kinda exactly the opposite of this.)
I can't show you a picture of this because we don't have it, yet. But we've teamed up with Black Phoenix Alchemy to bring you the soap Auri makes in Slow Regard. I've had long talks with them about the soap, going into kinda ridiculous detail. Because they're crazy geeks over there, too. My kind of people.
It won't actually be made out of bear tallow, but it we'll be getting everything else as close as humanly possible. It will be all prickle-rich with mystery, full of musk and whispers and tetradecanoic acid.
I'm pretty excited about this. I've been looking for an excuse to work with Black Phoenix for a while now….
Slow Regard Jewelry made from damaged books
The Worldbuilders team was kind of heartbroken when copies of Slow Regard arrived damaged at the office last year. A few of the boxes had been punctured, dropped, and otherwise mutilated. Leaving 20 copies of the book in rough shape, beyond what we could possibly use.
So, they got their craft on and made a bunch of earrings (from the text) and necklaces (from the art).
As these are all handmade, so supplies are limited.
When I was in Germany, I met a fan who brought a print of her art to one of my signings. It's one of my favorite depictions of Auri,  absolutely beautiful, and when I got back to the states, I showed it off to the Worldbuilders team.
They loved it too. So we got in touch with the artist, Johanna Rupprecht, and she was kind enough to let us make some prints for Worldbuilders. Thanks to her kindness, we're selling signed, numbered copies of this print for the duration of the fundraiser.
Slow Regard Litographs Tattoo
We're doing temporary tattoos with the help of Litographs. (We're doing a shirt with them too.)
You should buy this. Adorn your body with my words. This adds to my power and allows me to crush all those who appose me.
Plus, y'know… charity.
A bundle of Slow Regard related gear (heh)
I've unofficially named this The Year of the Gear because I'm really pleased with how much folks ended up enjoying The Slow Regard of Silent Things.
As a result, we've got a lot of Auri-related goodies in this year's fundraiser. And this bundle is your way of getting everything all at once and saving some money at the same time.
The bundle contains:
A Year of the Gear challenge coin.
A complete set of 7 postcards from the Underthing.
A package of two static clings. (One black, one white)
A package of two Beautiful and Broken tattoos.
Johanna Rupprecht's Auri poster, signed and numbered.
A chance to go on the JoCoCruise
This is a big one, folks. Pay attention.
Jonathan Coulton and Paul & Storm were awesome enough to give us a cabin on JoCoCruise 2016 to help out the fundraiser.
Earlier this year I went on the cruise for the first time. And to be honest, I wasn't sure how much I was going to like it. I didn't know how much I'd actually dig the cruise thing.
Short story? I had a great time. It's everything I like about going to a convention, plus I got to go snorkling. Plus all night gaming. Plus getting to hang out with cool geeks. And there's karaoke, dance parties, cabaret performances, panel discussions, cocktail hours…
In brief, it was a blast.
I liked it so much, that I've agreed to help develop their writing track programming next year, working alongside the inestimable John Scalzi.
The price tag for a 2 person cabin seems a little steep. (Though it's not that bad if you consider that it includes meals and drinks and entertainment for the duration of the trip.)
But even that doesn't matter in this particular instance. I know a lot of you don't have a ton of money, so here in the Geeks Doing Good fundraiser, you can throw your hat into the ring for 5 dollars. That's right. For five bucks, you have a chance to come along on the cruise with us.
You can enter as many times as you buy the perk. We'll get in contact once a winner is selected, and in February you'll be sailing high seas with the cool kids.
Seriously guys. It's a ton of fun.
I haven't even mentioned half of the things we've got in the fundraiser. We've got cards, original art. Cool Books. Game bundles. Collectables and things you'll probably never see anywhere else.
Odds are, no matter what sort of geek you are, you'll find something over there to tickle your fancy.
If nothing else, I think our intro video is really pretty awesome…
*     *     *
A final note:
One of the reasons we decided to go with IndieGoGo is that they accept PayPal, which is nice for folks that don't have credit cards. What's more, IndieGoGo gives us a *big* discount on the fees they normally charge because we're a non-profit.
But here's the downside. Because we're taking advantage of that discount, it turns out we can't use PayPal after all. The two just don't work together.
I know for some people outside of the US, credit cards aren't an option, or they're just unduly complicated. For those people, who absolutely can't participate unless we have PayPal, please feel free to email us at fundraiser [@] worldbuilders.org and we'll do our best to work something out so you can buy what you want using paypal instead.

Okay, enough from me. Go check out the cool things.
And remember, the fundraiser only lasts for a week.
pat