As I sit down to write up my traditional blog full of Rothfuss-specific items I'm putting into the fundraiser, I notice that Worldbuilders has just crested over the $100,000 mark.
This fills me with joy. Not only because it confirms that all of you are lovely, generous people. But also because it means we've passed two stretch goals, and have just unlocked a third, where Nika Harper will do a Tarot reading for a goat.
What were the previous two stretch goals? Well, I brought my littlest boy (codename Cutie Snoo) into Worldbuilders the other day to see the team. While we were there, I found myself wondering what would happen if I introduced him to one of the … odder people that hangs around in our basement.
Namely, Cinder.
This is a life-sized statue created from whole cloth by Ravn Cotino. He kickstarted the project, then donated the statue to Worldbuilders.
If you've been following the Worldbuilders blog, you know how it arrived and has been freaking everyone out several months. Including me. Because let me tell you, nothing is better than showing up at Worldbuilders at midnight, knowing I'll be able to have the place to myself while I sign books for the Tinker's Packs. And then, while I'm catching up on the Nightvale podcast, I wander back to get a fresh pen and see this out of the corner of my eye….
So yeah. It's only natural that when I brought my not-yet-quite two year old toddler into the office, I proposed that we expose him to this tangible nightmare as a stretch goal for charity.
This is what happened.
If you want to see the other stretch goals as we unlock them, or see what's coming in the future, you can take a peek at them on the Worldbuilders page.
Now, on to today's prizes.
*     *     *
First and foremost we'll start with the items going into the prize lottery. For every 10 dollars you kick in on our donation page you have a chance to win these items and many, many others.
Lottery Items
Card Decks: Sets of Name of the Wind, Pairs, and Geek a Week Decks
There are 3 different Name of the Wind decks (Limited, Unlimited, and Magician's Deck), 4 different Pairs decks (Commonwealth, Princess & Mr. Whiffle, Modegan, and Faen), and 3 different Geek-a-Week decks (Season 1, Season 5, and Season 5 Limited).
I'm putting 10 of each set in, so that's 30 prizes into the GAMES part of the lottery.
A Set of Foreign Editions in the Language of Your Choice
My books have been published in 35 different languages, and I get between 5-10 "author copies" of each edition. More if the book goes into multiple printings.
Whoever wins this item will receive everything I have published in the language of their choice. Love Portuguese? You can have O Nome Do Vento, O Medo Do Homem Sábio, and A Música do Silêncio. Want to give the book to your Grandma who only speaks Estonian? We've got you covered. We even have the rare, out of print set of the 3-volume Japanese edition of Name of the Wind.
And if you don't want to leave it to chance, you can always buy some copies straight out of the The Tinker's Packs, where all proceeds go to Worldbuilders.
Stuff in the Store
Speaking of the store, we have a lot of items in there you might not be aware of. And for the duration of the fundraiser, all the sales in the store count toward raising our donation totals and unlocking new stretch goals.
We have a lot of t-shirts. So many we don't have enough staff to model them. Our Eolian hoodie, a onesie, and a scarf, all over in the Apparel section of the store.
There are lots of games in The Tinker's Packs, including some limited edition game pieces, like the Draccus monster for King of Tokyo and King of New York (it works for either game).
We also have Boss Monster and Boss Monster 2, which has limited edition Bast & Bastas heroes you can kill (again, in either game). Plus there's cool collectible game stuff like our True Copper Dice made by Shire Post Mint.
There's lots of jewelry too, like the Pinny Arcade Talent Pipes pin, Auri's Brazen Gear, the official Eolian Talent Pipes, and even Denna's Ring. There's a lot more than that, though, so be sure to head over and peruse to your heart's desire.
Lottery AND Auction
There's a lot of stuff that I wanted people to have a chance at winning, even though the items are bit more limited and rare. So for everything in this section, I'm putting one item up in an auction (for folks with more money, or who want a sure thing) and one going into the lottery (So everyone who donates gets a chance.)
Doodled Beta copy of Princess 2. A Matching Set of Numbered Princess 1 & 2. All signed by me and Nate Taylor.
These are all really rare.
When we were working on the second princess book, Nate would send me his newest illustrations, I'd get them printed and bound, then get feedback from friends. After that was done, I had a few left over, so Nate signed and doodled them. There's one up for auction right here, and one in the lottery.
We also have fancy numbered editions of the Princess books.  They're both numbered editions, leather bound, with beautiful signature pages signed by both me and Nate. We have two matching sets, so one is in the lottery, and the other is in an auction here.
Rare books: 1st Edition Name of the Wind. ARC copy of Unfettered.
Here you have it guys. I've had to start buying 1st editions off of people at signings to keep Worldbuilders stocked for things like this. One first edition/first printing of NOTW is going into the lottery, and the other is in an auction. We sold three of these for $2500 last summer, so I can only imagine what this will go for.
These ARCs of Unfettered are pretty rare too. The regular print run only had 5,000 copies, and there are only 250 of these ARCs.  Here's the link to the auction if you just can't leave it to chance, otherwise one is in the lottery as well.
Auctions
There are some things that are just too specialized to put into the lottery, so we're auctioning these off to make sure they're going to get into the right hands.
 General Geekery: Limited Edition Boss Monster cards, Master Set of  Cealdish Coins, and 300 Chip Poker Set.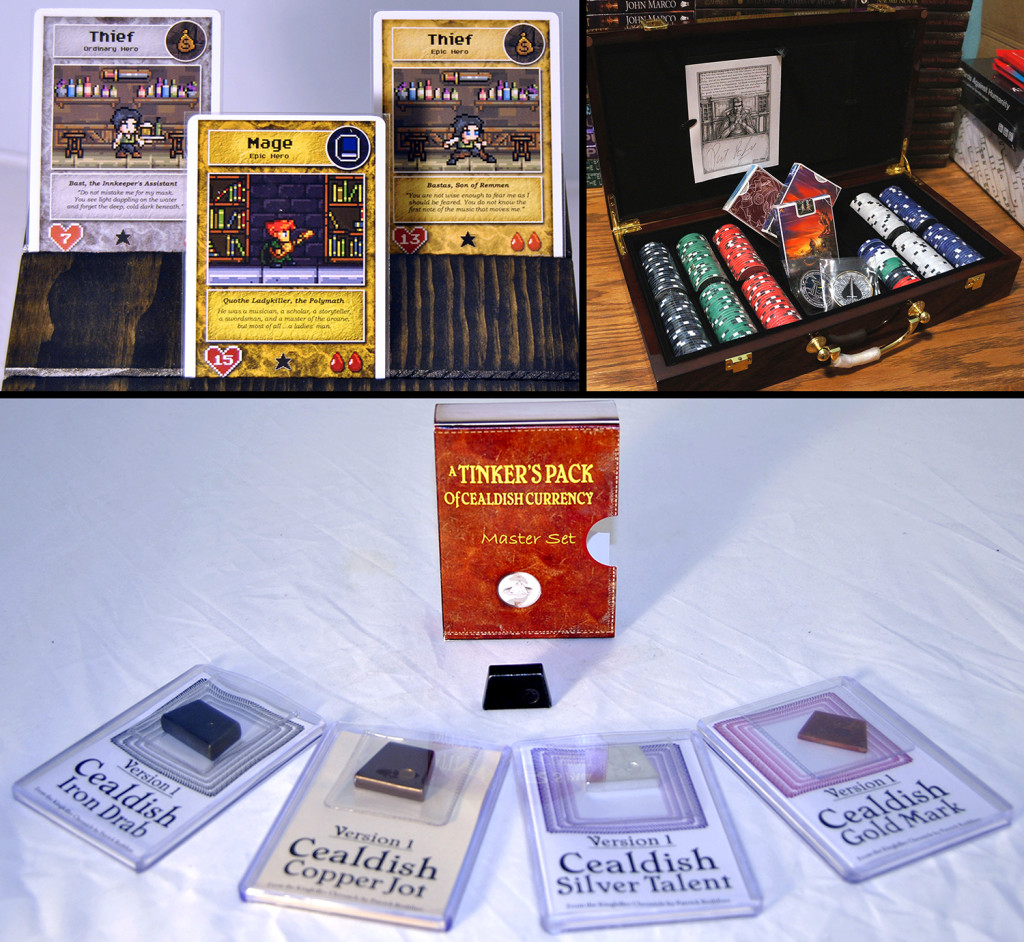 The first is an auction for the Quothe Ladykiller, Bast, and Bastas Hero Cards for Boss Monster. There were only ever 200 made, and we only have this one because a fan donated it back to us.  Auction is here.
We also have a 300-piece poker set from the Albino Dragon Kickstarter a while back. This contains 60 of each color chip, all three decks, plus some extras in in a lovely wooden case. The bidding starts here.
Next up is a Master Set of my Cealdish currency, made by the folks at Shire Post Mint. This even includes version 1.2 of the iron drab, which  you can't get any other way. We only made 94 of these, and they've been sold out since about 2 hours after we made them available.
To bid on this, head over here.
Bookish Geekery: ARC of NOTW, ARC of WMF, Edited & Critiqued NOTW Text Scarf.
It's getting harder to find ARC copies of The Name of the Wind, but we've got one up for auction. It's one of the cool rarities where they didn't print on the dust jacket image. Instead my editor, Betsy, wrote a note on the cover explaining why people should take a risk on this unknown author named Patrick Rothfuss.
There's also a Wise Man's Fear ARC looking for a new home, and if there's a space for it on your shelf you can bid on it here. These are extremely rare (only 227 copies were ever printed), and all of them were numbered so that we'd know who had leaked their copy if one sold before the actual book release.
Those of you signed up for The Tinker's Packs newsletter probably saw one of the new items launched last month, an infinity scarf printed with text from The Name of the Wind. I took the liberty of correcting some of the purpler prose on one of the scarves, and it's going up for auction. This one is truly one-of-a-kind, because the team took my pen away before I could correct the rest of the scarves.
* * *
So there you go, folks. A bunch of signed and rare stuff in the Lottery, new items in the store, and unique items up for auction. A little bit of something for everybody.
Don't forget: I'm streaming on Twitch every evening from 4:00-7:00 CST. I'll either be working on Book 3 or playing Fallout 4 depending on which option people vote for.
The auctions for professional critiques of your manuscript go through Sunday, so be sure to check those out too.
Thanks for helping out, everyone. And thanks for spreading the word…