As some of you can guess by the fact that I'm posting blogs again, I'm mostly recovered from our big end-of-year fundraiser, followed by the holidays. What's more, the Worldbuilders team has recently finished shipping out the last of this year's prizes.
One of the things we do when we're wrapping up the yearly fundraiser, is look back over the previous year. We look at our numbers, sift through data, we assess our current projects and think about where we're going to focus our attentions in the future. (More about this later.)
This is oddly dangerous ground for me. Because, the truth is, every year before we launch our big End of Year fundraiser, I worry about Worldbuilders.
You see, I always want Worldbuilders to be better than the year before. I want us to be bigger, raising more money, working with more people, doing new and exciting things. I want us to continue growing and being a force for good in the world.
But on the other hand, I know the key to happiness is reasonable expectations. 2014 was our first million-dollar year. It' a level of success that would've seemed unattainable to me a couple years ago. So for me to demand we do even *better* than that… it seems somehow arrogant, if not just downright silly.
The problem is my brain. For me, it's a short step from this:
To this:
This is a constant dance I do mentally, I want the charity to be awesome, but I also want to be emotionally healthy. What's more, I want to be a good boss, and reasonable expectations are a huge part of that. How awful would it be if we ran a fundraiser, made a million dollars, and felt like we'd failed?
The truth is, Worldbuilders raised a million dollars in 2014. And if we never, ever got bigger than that, we would still be an awesome charity.
That said, in 2015 we *did* raise more than two million dollars.
(Which is kinda awesome.)
This is counting the our mid-season Geeks Doing Good campaign on Indiegogo. And our completely-impromptu fundraiser for the Syrian Refugees. We had a huge outpouring of support from the community that caused both of those to be delightful successes.
So, let's look at some graphs. Because as much as I love the words, sometimes it's easier to grok this stuff graphically.
That's almost a mind-numbing amount of money. Because of it, villages will get clean and reliable water for the first time. There will be a ton of fruit trees planted, to increase air quality and provide healthy food. Parents will be able to feed their kids milk and eggs. Families will be able to generate income that will give them control over their own lives, letting them have better homes, education for their children, and a brighter future.
This also shows very visibly that y'all are willing to come along with us to support other worthwhile causes like helping with the Syrian refugees.
But that's not the only cool thing going on. Check this out.
This is a really cool piece of data for me. It means people who donated $60 or less made up 22% of our total for our big End of Year fundraiser.
Every year I hear people say, "I was only able to give $20…." as if they felt guilty about it. As if they weren't *really* helping.
So check out that graph. That proves what I say every year. There really aren't any small donations. And it's by working together that we are mighty. If you're one of the folks who helped out with 20 or 30 bucks, I want you to know that together with your brethren and sistren, it added up to a huge piece of money.
There were 3,824 new donors this year who have never participated in Worldbuilders before. Considering we had 7100 unique donors, that's a RIDICULOUS number of new donors. More than half of you stepped up and participated even though you'd never done so before.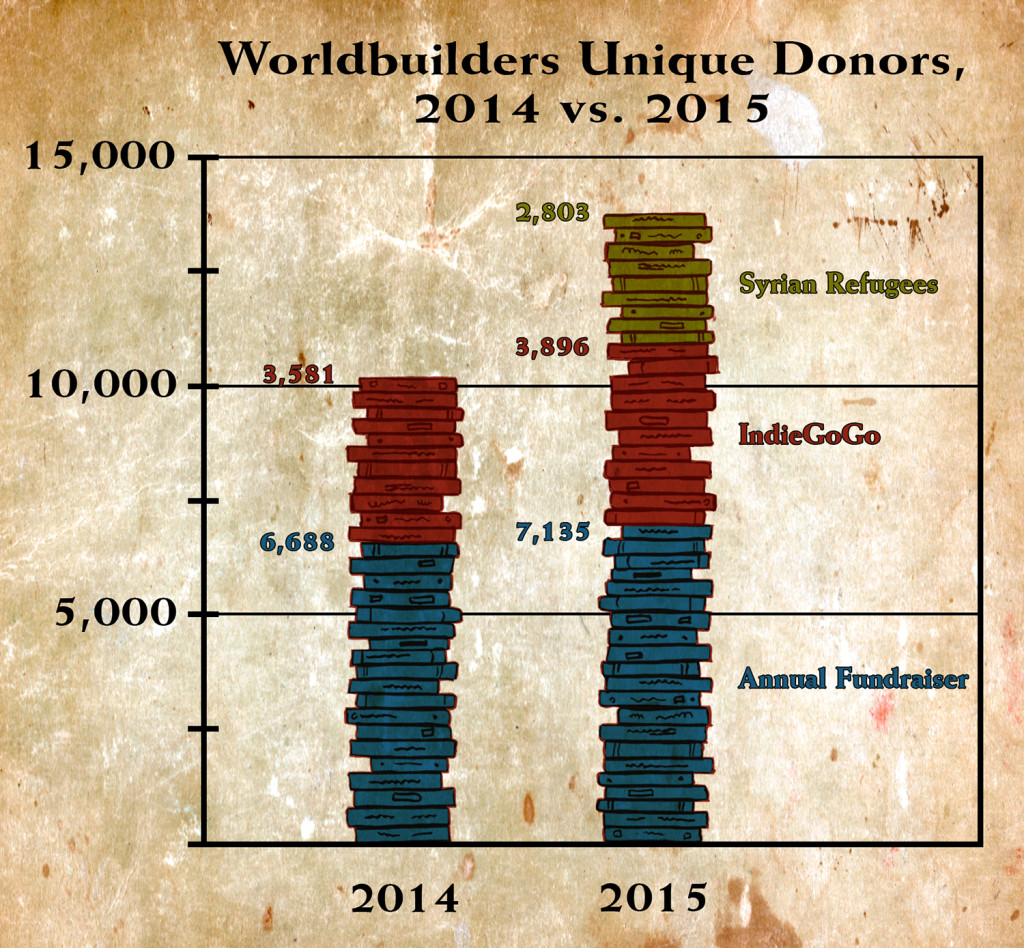 Across all fundraisers, we had almost 14,000 unique donors. We are growing every year thanks to you guys. This was the first year we shipped prizes in January. We also finished shipping prizes last week, which is by far the fastest we've gotten prizes out.
It's almost like we're getting better at this stuff.
*     *     *
On that note, we're already looking toward the future. We're constantly trying to improve the fundraiser, deciding where to devote our energies.
To do a good job at that, we need as much data as we can get. We'd like to know what you like about the fundraiser, how you've participated, and what you think about some ideas we have for the future.
If you're willing to help us out, the survey is right here. It won't take too long, and it'll do a lot of good in terms of helping us make good plans so we can keep growing in the right direction.
Thanks everyone. You warm my bitter old heart.
pat