It shouldn't surprise any of you that I read a lot.
Similarly, I'm guessing most of you won't be hugely shocked to discover that I have strong opinions about books. When I like a book, I share it around with near-missionary zeal. And when I'm not fond of one…
… well, when I'm not fond of one. I mostly keep my mouth shut. Because life is too short. Plus it's rude to shit on another author's book in public. Plus I'd usually rather spend my time reading good books than bitching about bad ones.
(There are, of course, rare exceptions to this rule.)
But simply said, reading books is one of my greatest joys. Followed closely by sharing good books and talking about good books.
Which is why I have a profile over on Goodreads, where I constantly talk about books I've read.
To call what I do over there "reviewing" books really isn't accurate. The truth is, I've never really read reviews of any sort, so I wouldn't have the first clue as to how to write one.
Instead, I mostly talk about how I feel about the books. Sometimes as a writer. Sometimes as a reader, or a parent, or as a straight-up irrational fan. Quite frequently as an untidy mash comprised of all of the above.
But over the years, I've discovered an odd problem.
If I read a book and like it, writing up a little blurb on goodreads is the easiest thing in the world for me. Takes me 10-15 minutes. Tops.
Mind you, I don't always do that. A lot of times I don't have 10-15 minutes to spare, or I'm away from a computer when I finish a book, and by the time I think of entering it on Goodreads, the details have faded from my memory.
But what I've discovered is that a lot of times, if I really *really* like a book. If it absolutely knocks me over. If it has a huge emotional impact, I won't write a review at all.
Oh I'll *intend* to write a review. I'll want to write one. But trying to put into words how much I adore certain books ends up being prohibitively daunting. I can think of three books like this off the top of my head. For more than a year I've been meaning to review: Gone Girl, A Fault in Our Stars, and The Sculptor.
And a newer book. A book that just came out, but that I've been meaning to write a review about for months now. A book that delighted and amazed me in a way no other book has done for years.
This book: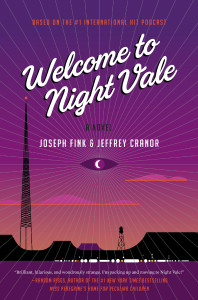 (This beautiful, stunning, delightful goddamn book.)
I've been a fan of Nightvale for a couple years now. And I'll admit, I pulled favors so get an Advance Reading Copy. I was excited to read it. And I was terrified of what it might be like.
For those of you who don't know, Welcome to Nightvale is a twice-monthly podcast. It's like Tales from Lake Woebegone and The Dreamquest of Unknown Kadath had a hot, drunken make-out session, then had a beautiful baby together. It's a great show, unlike anything else I've ever run into.
But that's just it. It's a radio show. And there's a HUGE difference between writing a series of 25 minute radio episodes, and writing a 150,000 word novel. Novels are immeasurably more complex in their narrative and character, plus you don't get to use a lot of the tools that audio production gives you.
So yeah. I was worried they might not be able to pull it off. Not because they weren't good writers. But because writing your first novel is a whole different game.
Did they pull it off? Here's the short answer.
(Click to embiggen if you'd like to read my blurb.)
While I review many books, I blurb very few. The reason for this is that when I'm reviewing a book, I can explain in detail why exactly I like a book. I can talk about what the upsides and downsides are. I can make comparisons to other books.
In short, when I'm writing about a book on goodreads, I have enough space to say things like, "If you don't like the level of violence in Martin's books, this will be too much for you." Or "If your kids have read Harry Potter, they should be fine reading this, too."
But a blurb is different. When I give a blurb, I'm effectively offering my imprimatur. No matter what the blurb actually says, me having my name on the cover for promotional purposes equates to me saying, "My name is Patrick Rothfuss, and I'm saying you should try this book."
So yeah. That's what I'm saying here. This book is amazing and you should read it.
In fact, I'm such a fan of the book, that I'm going to help out with Joseph and Jeffrey's Book Tour. When they swing through Milwaukee on November 10th, I'm going to chat with them about writing and stuff. Deserts and Dogparks. It should be a good time.
You can get more details about their book tour and buy tickets to the Milwaukee event over here. (Note that the ticket price includes a copy of the book, so it's actually a bargain.)
If you'd like more details about why exactly I liked this book so much, you can check out the review I wrote on Goodreads.
Later folks,
pat