One of my best thanksgiving memories is from 2003, back when I was still living my old student lifestyle.
To be completely honest, I wasn't really a student at that point in my life. But the only real difference between 2003 and 2000 was that I was teaching classes rather than taking them. My habits, hobbies, and income hadn't really changed from my student days, and I still felt like a student at heart.
A couple days before the real Thanksgiving, my friend Ian said to me: "We should get people together and have Thanksgiving tonight."
"My stove doesn't work," I said. "And I don't know how to make stuffing."
He shook his head. "No. We should all go to the store and buy some kind of food we're thankful for. Then we get together and share it."
And that's what we did. That night we ate taco dip and poppin fresh biscuits. We had fried mushrooms and shrimp and mountain dew. We had nutty bars and ice cream and a bunch of other things I can't even remember.
We gathered round, ate these wonderful things, enjoyed each other's company, and watched Buffy the Vampire Slayer.
Times have changed since then. These days, most of my friend have left town. I miss them terribly, but I have a different sort of family now. More specifically, I have a baby.
I'm going to post up a picture of him. Because it's my blog and I can do whatever I want.
Apparently megalomania is genetic.
Today I'm taking a break from copyediting and posting more Worldbuilders books. That means I have time to do one of my favorite things. I get to have lunch with Sarah and Oot at the Olympic.
The Olympic is a restaurant I've been eating at for years. Sarah and I had one of our first dates there. And she tells me that once, years before we met, she watched me from a nearby booth, eavesdropping, lust simmering in her innocent young heart.
These days going to the Olympic is fun for me because I get to feed little Oot.
For months I had nothing to do with this. Sarah breastfeeds, and because she's stay-at-home Oot can get a snack pretty much whenever he wants, straight from the tap. But now he's over a year old, and while he still loves the boob, he's eating solid foods too.
I order the chicken soup and give him parts of it. A noodle. A little chicken. A bit of celery. A little piece of carrot that's soft enough for me to cut up with my spoon.
Oot investigates these things. He pokes them with a finger, then crams them into his mouth. It is not unlike the way his daddy eats, though his daddy tries to be more genteel in public.
I have a lot to be thankful for. My first book has met with stupefying success. I have an understanding editor who has given me the time to turn my second book into something I can be proud of. My work is being translated into thirty languages. I have awards. I have money in the bank.
But none of that makes me as happy as lunch with Oot. I give him a piece of lettuce from my sandwich. A piece of tomato that I bite in half for him. A little bit of turkey. He moves them around on his little plastic mat, then pokes them happily into his drooly little baby maw.
I was a fan of Heifer International long before I ever considered having a kid. I donated money. I got weepy when I read Beatrice's Goat.  I gave goats and chickens and sheep as Christmas presents.
But now that I have a baby, it's something else entirely. I can't imagine how I would feel if I couldn't get enough food for my baby.
Actually, that's not true. I have a very good imagination. I can imagine exactly what it would be like to not have enough food for my baby. It's a horrifying feeling. It's a huge feeling. When I think about not being able to feed my baby, my mind brushes up against the edge of something very big and dark in my head. Like nighttime swimmer who feels something firmly bump against his foot.
They say any civilization is three meals away from barbarism. And now, having a child, I believe it's true. If I couldn't get Oot the food he needed, I think I would do monstrous things. Barring that, I think some part of me would break and never, ever be right again. Not ever.
Still at the Olympic, I give Oot my whole deli pickle mostly out of curiosity. He pokes it, then picks the whole thing up and bites off the end. He makes an indescribable face. Then he takes another bite. At first it looks like he's going to eat the whole thing. Then he holds it out to me, and I take a bite. I made a face and he laughs. He takes another bite, then holds it out for me again.
I am very lucky. I think this all the time. I have a warm house. I have a healthy baby. Not only do I have food for him, but we have food enough so that eating it can be a form of play.
This is why I started Worldbuilders.
When I started making serious money off my first book, it was nice. I paid off my credit card. I earned enough so I could get a mortgage on a house. But other than ordering a slightly better brand of frozen burrito, my lifestyle hasn't changed that much. It's nice to be able to order Chinese takeout whenever I want. But really, money hasn't made me noticeably happier.
Matching donations through Worldbuilders makes me happy. It's my new hobby. I look forward to it all year long.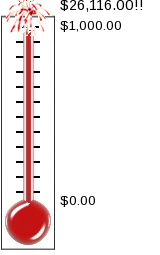 Don't get me wrong. Sometimes I see the donation thermometer jump up by a thousand dollars and I flinch a bit.
Then I remember that 120 dollars buys a family a goat. I think about children drinking milk. Not just one morning. Every morning. I think about children eating eggs. I think about mothers and fathers selling the extra milk and wool and eggs to buy things they need to have a better life.
And then I'm happy.
After we finish up at the Olympic, I run some errands. At Shopko, I see a little bath set. It's got a little comb, and some bubble stuff, and a yellow sponge duck.
Oot loves ducks. It's one of his favorite words. We could play with this in the bathtub.
And I almost buy it before I realize how stupid this is. We have combs at home. We have stuff that makes bubbles. I would be paying twenty bucks for a bunch of plastic packaging and a sponge duck. For twenty bucks, I could get a flock of chicks from Heifer.
And once I think of it in these terms, it's easy not to buy this useless piece of crass commercial shit. Oot is deliriously happy playing with a cardboard tube or one of the rubber ducks that we already have in the house. He doesn't need this.
When I get home from errands, the first thing I do is check the donation totals. I'm really hoping we can get the thermometer up to 130,000 dollars again this year. Maybe more. It would be great if we could beat last year's total.
The thermometer has gone up another 500 bucks. That's good. That's another $250 I'll be kicking into the pot. That's six goats and a bunch of chickens.
That's a lot to be thankful for.
Have a good turkey day everyone,
pat
P.S. Just in case you want to wander over to the Worldbuilders donation page, here's the link…