Yesterday, the Worldbuilders fundraiser passed $1.8 million.
Support has been pouring in from all sides as people continue to donate and help spread the word. I can't tell you how much I appreciate all the help you have given us…
Also, we've been adding new items to our prize lottery left and right. We're currently giving away more than $185,000 dollars worth of geeky swag. So much stuff that if you donate $30, you have a 12% of winning something. We're giving away thousands of books and games, a gaming table from Geek Chic, a cabin for two on the 2017 Joco Cruise, this beautiful Tak board from Wyrmwood games…
(I want it. So. Much.)
You know what else donating $30 dollars does? It buys a family honeybees….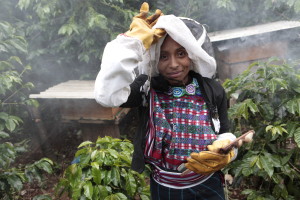 This is Feliciana Martin, a small-scale coffee farmer. Her one-acre farm barely supported her and her daughter until she received the gift of honeybees from Heifer International in 2012. Since then, Feliciana has seen a noticeable increase in her coffee harvest every year. This isn't really surprising, as improved pollination can increase crop yields in any farm by as much as 200-300%.
What's more, Feliciana is now also able to collect and sell honey, providing her with additional income. As a bonus, coffee honey is believed to taste better than regular honey, so she is able to charge about 10 percent more.
(Additional note: Now I *really* want to try coffee honey.)
She collected 60 pounds of honey in the first six months and doubled the number of hives she owns. Then she trained some neighbors on the proper care of bees and gave them hives to start them on their own road to increased independence. This is called "Passing on the Gift." All Heifer recipients take part it, and it's a big piece of what makes Heifer's work so amazing and long-lasting. The good Heifer does spreads through a community like a shockwave, spreading outward for generations…
Feliciana dreams of a better life for her daughter. Now, with more reliable income she can use for food, medicine, and schooling, that dream is a reality.
That's what we're doing here, folks.
That's what happens when you donate thirty bucks….
*     *     *
Except after I typed that dramatic little asterisky scene break there, I realized I'd just told you a lie….
The truth is, this year that's not what happens if you donate thirty dollars. This year Worldbuilders has access to matching money. So if you give us $30, we're going to double it and send $60 on to Heifer International.
So… yeah. This is your big chance, folks. Kick in some cash and know that you're sending twice the awesome into the world….
*     *     *
And speaking of awesome things, one of my favorite team pages is back this year. Little Charlotte, joined by her sister Maggie, have started an online concert to support Worldbuilders.
Please do me a favor and watch this video.
Seriously. You can spare the time. It will improve your day.
Over the last couple weeks, whenever I started to feel tired, or beat down, I'd watch this video. Watching how excited these girls were at the thought of holding their online concert and raising money for Worldbuilders gave me a boost when I really needed it.
As time went on, I came to realize that I really *really* wanted to help make Charlotte and Maggie's concert a success. I love that these girls want to change the world.
So I decided to put my money where my mouth is, and I donated to their page.
And *then* I decided to put my mouth where my mouth is, and when my throat recovered from my cold, Sarah and I sang a bunch of songs together on my livestream. And then, using their carefully detailed instructions, we added them to the playlist.
Then we sent out links to some of our our favorite geeky musician friends to see if they'd be willing to participate. And they added songs they'd already recorded to the playlist, and now we're up to 50 videos in the online concert.
So now, at last, I'm reaching out to you.
I invite you to listen to these songs. I hope they bring you joy.
I invite you to record songs of your own and add them to the list. Don't worry if your voice is not perfect. That's not what this is about. (I feel I make that perfectly clear in my videos.)
But more than anything, I would love it if you donated to Charlotte and Maggie's team page. They worked really hard on this, and they deserve some love.
Spread the word about the concert. Share the videos you like.
Music brings people together in a a way that nothing else does.
So come join us. Sing along.
Donate. Spread the word.
Save the world.