So, to cut right to the chase here, I've got a story coming out in an anthology next spring.
The anthology is called Unfettered. I'm in there with Terry Brooks, Brandon Sanderson, Tad Williams, Naomi Novik….
Well… a lot of cool people, basically. If you click to embiggen the cover, you can read the whole list of authors for yourself.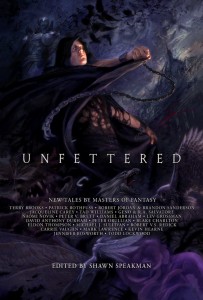 You can go pre-order copies over here.
My advice? If you want one of the limited-edition copies, signed by all the authors, you should probably hop over there sooner rather than later. They aren't going to last long.
And to answer the question before anyone asks it in the comments below: Yes, my story is set in the Four Corners world.
It's called, "How Old Holly Came To Be."
If you've been reading the blog for a while, you might actually remember me talking about how I wrote it in a single day about a year ago.
I'm excited about this anthology for a couple reasons.
First and most obviously, because there are a lot of really good writers in there. I'm actually really excited to read it.
Second, when you write kinda slowly, like I do. And you revise obsessively, like I do. And you write books that are really long, like I do. It means there are long gaps in between your published books. It's been more than a year since I've had anything new to show y'all. So I'm glad this is coming out to help give y'all something new of mine to read….
Lastly, the proceeds from the book go to a good cause. You can read more about that over here if you want.
More news soon,
pat