Want to hear something strange?
My first short story ever has just been published.
I didn't even realize it until just now, as I sat down to write this blog. But it's the truth.
Here's the thing. I've been published in anthologies before. That happened long ago in 2002 with Writers of the Future Vol 18. That was the publication that got me started.
My piece in that anthology was called "The Road to Levinshir."
But it wasn't really a short story.
For one thing, if you want to be nit-picky, it was 14,000 words, and that makes it a novella. Or a novelette, to be precise.
But the bigger issue is that the "story" in addition to being not short, wasn't really even a story. By which I mean it wasn't a self-contained discrete entity unto itself. It was an excerpt from my as-then unpublished novel, which bore the embarrassing title "The Song of Flame and Thunder."
(Most of you have read a much-revised piece of this story in its proper context, as a part of The Wise Man's Fear.)
Later, people asked me if I'd like to reprint that story. Since I'd revised it fairly substantially, my response was pretty much, "Woo! Someone wants to print my stuff!"
All three of these anthologies contain versions of "The Road to Levinshir" (Or "Levenshir" depending on my mood.)
But as I've already mentioned, it wasn't really a proper short story.
My first proper published short story has just come out in Unfettered.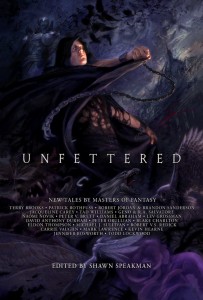 I mentioned it on the blog a while back, letting people know they could pre-order it. But that was more than half a year ago. A lot has happened since then.
This is an anthology where a bunch of authors pitched in stories to help out a friend, Shawn Speakman. He was was having trouble with his medical bills after getting cancer, beating it, then getting a whole *different* type of cancer years later when no health insurance would cover him.
Here's a list of the authors involved.
Terry Brooks
Patrick Rothfuss
Naomi Novik
Brandon Sanderson
RA Salvatore
Tad Williams
Jacqueline Carey
Daniel Abraham
Peter V. Brett
Robert VS Redick
Peter Orullian
Todd Lockwood
Carrie Vaughn
Blake Charlton
Kevin Hearne
Mark Lawrence
David Anthony Durham
Jennifer Bosworth
Lev Grossman
Michael J. Sullivan
Eldon Thompson
Shawn Speakman
Seriously. That's a hell of a line-up. I couldn't hope for better company.
My story is set in the four corners world. It's called, "How Old Holly Came to Be."
It's not like anything I've ever written before. By which I mean it's short, and I finished it before my deadline.
I kid. I kid. What I really mean is that it's a very different sort of story.
You can order the book in all manner of formats over here on Shawn's website.
Or, if you like, you can buy a copy off the Tinker's Packs.
I'm not going to lie to you, if you buy a copy in our online store, it's going to be more expensive. But that's because not only is money going to Shawn, but money is going to Worldbuilders, too.
But to make up for the expense, I'll happily sign it for you. And in addition to helping two good causes, you'll know that you're getting a first edition copy. Shawn printed fewer than 10,000 of these from what I understand, and I don't know if or when there will ever be another print run. So it's kinda a grab-them-while-you-can sort of situation….
And if you're feeling extra bookish, we've got a scattering of signed books from other authors we've thrown up recently in The Tinker's Packs as well. Most of those we only have a a few of, so when they're gone, they're gone.
Have a good weekend,
pat