Hey there everybody,
Before we show off today's goodies. I'd like to share a little tidbit about Heifer.
The thing is, I talk about Heifer in general terms a lot, but I don't often give specifics. And specifics are the meat of the thing. That's where the real stories are.
Heifer International does a lot more than just give livestock to people. In Bangladesh, for example, the village of Bhairav is  flooded every year, making it impossible for children to travel to schools that are far away.
This is a problem, you see. If children miss out on a good education, it effectively cripples them for the rest of their lives. Without a good education, you can't get a good job. Without a good job, you can't make good money. Without money, your children end up hungry and they can't get a good education….
To fix this problem, Heifer teamed up with a local women's group to open the Bhawanipur education center so children have a school that's closer to home.
But that's only half the battle. You see, a school needs money to run. Heifer worked with the women's group to set up a rice bank where donations of rice are sold and the money is put into a group fund that covers expenses like rent and the teacher's salary.
The beauty of this system is that it's self sustaining. Now that it's set up, they no longer need Heifer's support. They're taking care of themselves.
Now, every year, thirty students aged 6 to 8 study in this school, including Morzina, age 6, pictured above.
They learn to read and write. They learn math. And their lives are better. And their children's lives will be better.
This is what Heifer does.
And when you donate on the Worldbuilders team page, you're helping them do it.
*   *  *
Today's blog is full of games from a couple different sources. Some are going into auctions, some into our general prize drawing where anyone who donates can win.
The first of these games come from Cheapass Games. 
Here's the thing: Don't let their name fool you. I've been playing their games for twenty years, and they are fun as hell. More fun than hell, actually. A lot more.
And best of all, they're games you can sit down and play with *anyone* at the drop of a hat. No huge rulebook. No elaborate setup. You just sit down, look things over, and in ten minutes you're blowing up cows or setting up your villainous plans for world domination.
Because these games are so deliciously universal, we're doing something we've never done before here at Worldbuilders and we're putting a bunch of them in the general lottery.
We here at Worldbuilders have learned to love games that come from James Ernest and Cheapass Games.  We have yet to find one we haven't enjoyed, and we wanted to be sure to share that joy with some lucky donors.
This bundle has one of my personal favorites, Unexploded Cow, where you blow up mad cows, clear old mine fields, and make money while doing it.
Cheapass Game Bundle 2: Fish Cook, Diceland: Space, Ogre, Extra Space
This game bundle contains Fish Cook, as well as three Diceland games.
Diceland is the one that Amanda's particularly fond of.  It's a paper dice game, so you punch out and fold up dice which are effectively octahedron miniatures for your spaceships/tanks.  You then proceed to have a giant table-top battle, dictated by the sides of the die that you're using.  It's easy to learn, and awesomely fun.
Cheapass Game Bundle 3: Deadwood Studios, Captain Treasure Boots, Totally Renamed Spy Game
This bundle has the awesome Deadwood Studios game, with art by the beloved Phil Foglio.  It also has the cool Captain Treasure Boots.
Even more hilariously, it has the TOTALLY RENAMED SPY GAME. You see, it used to be called Before I kill You, Mister Bond until they got a Cease and Desist order.
As a bonus, all of these bundles have the game Light Speed added to them.  We took the time to play this one in the office last week.
It was a blast.  The point of the game is to lay your ships  wherever you can as fast as you can, so that your lasers are pointing at the asteroid, which you can mine, at everyone else's ships, which you can destroy, and *not* at your own ships, which you can also destroy.
Amanda's particularly fond of it because she likes to carry a game or two with her at all times for emergencies, and this one fits nicely into a purse or a pocket as it's smaller than a deck of playing cards.
Auction

: One of everything from 2013 from Cheapass Games: Deadwood Studios, Captain Treasure Boots, Fish Cook, Veritas, Diceland: Space, Ogre, Extra Space, Unexploded Cow, Dead Money, Totally Renamed Spy Game
We're auctioning off a cool collection of all of the games made in 2013 from Cheapass games, including (though not pictured) Light Speed.
If you want the chance to own this awesome set, head over here and bid.
The Tinker's Packs: An Ernest Games Bundle
Here we have a collection of games from James Ernest and Cheapass Games, including Unexploded Cow, Deadwood Studios, Dead Money, Totally Renamed Spy Game, and Light Speed.
Here's an awesome book based on the incredibly popular Pathfinder games.  The folks at Paizo Games sent a bunch of copies of this, so we're throwing them up in the lottery for some lucky donors. You don't even have to be a fan of the Pathfinder games to enjoy this fantasy adventure.
Auction

: Pathfinder Game Book bundle: The Inner Sea World Guide, signed by about a hundred people, Core Rulebook, crazy signed, and Stalking the Beast by Howard Andrew Jones.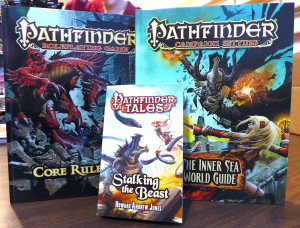 This is a really cool bundle: both of the game books are signed by a ton of people at Paizo Games.  Looking at the signature page is truly astounding.
Yep–those are the folks who worked on this game. This would be a great addition to the collection of any Pathfinder player.  If you want it, be sure to head over and bid.
Auction

: The Art of Bioshock Infinite.  Signed and doodled by the folks at Irrational Games.
This is a truly beautiful art book, filled with intricate renderings of characters, locations, and costumes.  And as a bonus, it's signed by about a billion people, some of whom took the time to doodle things as well.
There's pretty much nothing but coolness about this.  If you want it, be sure to bid on it over here.
Auction: Fantasy Flight bundle: Eldritch Horror, Netrunner, Wiz-War, Ingenious, Descent: Journeys in the Dark, and A Game of Thrones.
Here we have a collection of games that were donated by a group of fans at Fantasy Flight.
These are some seriously fun games for a group of serious gamers. I'm particularly fond of Decent, which I've played the hell out of.
If you want to add some grit to your game night, go bid over here.
Auction

: Fantasy Flight and Mayfair bundle: Urbania, Giza, Empire Express, Catan – Cities & Knights, Eldritch Horror, Descent: Journeys in the Dark.
Here we have more cool donations from fans, which can help expand your game nights with friends.  To bid, go here.
Auction

:  Roleplaying Books: Monster Hunter International, Star Wars Millennium Falcon Owner's Workshop Manual, Star Wars Age of Rebellion, Star Wars Edge of the Empire – Core Rulebook, and Mistrunner by Glenn R. Buettner (signed).
Here are some more awesome role playing books, some of which are signed, and all of which will give you something awesome and new to do.
Auction

: Limited Kickstarter Edition of Boss Monster Game with Quothe Ladykiller card.
A generous fan donated this awesome Kickstarter-exclusive edition of Boss Monster, and we have a beautiful Quothe Ladykiller the Polymath card to send along with it.
The game is awesome, with you playing as the boss monster in an old 8-bit video game, expanding your dungeon to attract and kill heroes.  Quothe was a special, limited edition hero that Boss Monster made just for us.
And, while we don't have it yet, we're gonna have something else to send soon…
That my friends, is Bast, as an ordinary hero in the game.  And that's not all:
The winner of the auction will be receiving both of these cards once they're printed, in addition to the Quothe card and the Kickstarter-exclusive edition of the game.
And, just to calm your fears, we will be having them available in The Tinker's Packs someday.  But the winner of this auction will get it well before anyone else. So they can be really smug.
So there you go. You can click here if you'd like to donate directly to Heifer and be entered into our prize lottery. Or you can see all the auctions that are currently running over here.