If you've been reading my blog for any amount of time, or following me on any type of social media you realize that I'm a game player.
So it's probably not a surprise that I like playing games with my little boy.
You probably also realize that I'm something of a hyper-critical curmudgeonly fuck. Which means I find a lot of things irritating.
For example, Candy Land: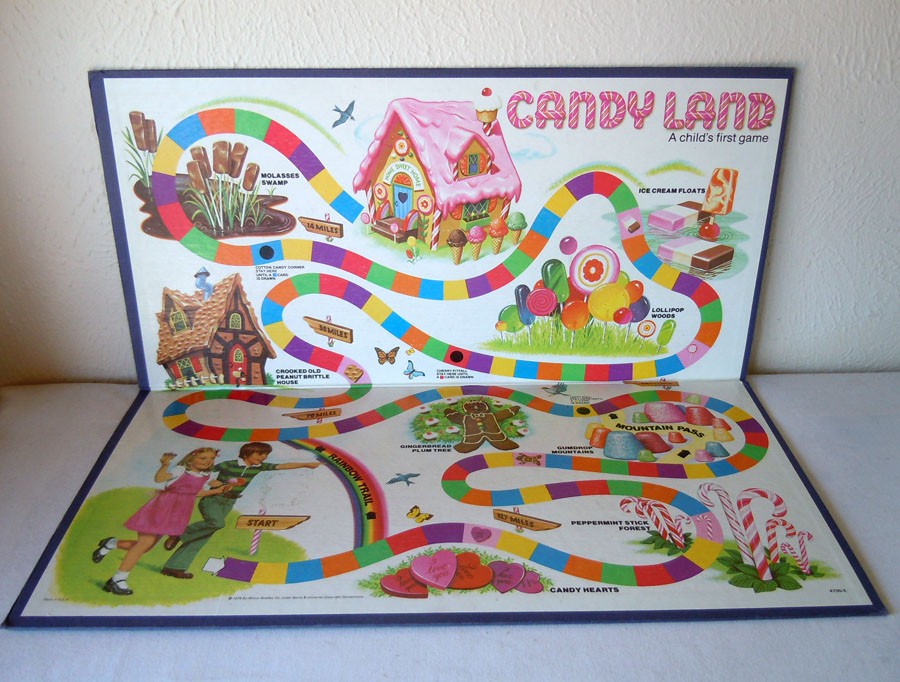 (This is what my version looked like when I was a kid.)
I'm not going to go off on some screed about game design here….
Ah hell. That's a lie. I'm so going to. I didn't mean to. I was just going to come in here and tell a cute story about my kid and then get out under 600 words. But I've kinda have to get this out or I'll probably burst a vessel or something. I really shouldn't keep this shit bottled up. I promise it will be a smallish, well-reasoned screed. Okay?
Dear everyone: Kids games should be games.
I know, I know. The main things we get from kid's games isn't competition. It isn't intellectual stimulation. We're not playing Traveler, here. We're not looking for the subtle intricacies of Go. I get that. There are two primary things a kid's game provides:
1. It gives you an excuse to hang out with your kids.
2. It gives your kids the basics of how to play a game.
This second one is not to be underestimated. When I started playing with Oot a year or so ago, I was amazed at how much of it wasn't natural. The concept of taking turns, following rules. They need to be learned.
So yeah. I know those are the two biggies that you're getting when you play a kid's game. But you can still have some *game* in there.
Think about it. The main purpose of food is to get calories and nutrients, right? But we don't just sit down and eat two cups of lard and a multivitamin, do we?
No. We do not. Not twice at any rate.
*     *     *
I remember playing Candy Land with my mom. It was fun. But I was a kid back then, so the bar for fun was fairly low. Pretty much anything a kid does with their loving parent is going to be fun. When I was older, my mom confessed that she'd gotten really tired of Candy Land. She used to hide the low-level candy cards because they made the game last forever.
Tedium is not the mark of a good game.
I felt a connection with my mom when, after playing Candy Land a couple times with Oot, I began to do the same thing. Because it *is* a tedious game, and not just for adults. Oot himself would start to zone out partway through the game. Not because he has a poor attention span, Oot will sit and read books for hours. He'll work a puzzle on his own.
No. He's bored because the game is tedious. And it's tedious because there is no skill involved. You draw a card, you look at a card, you match a color, you move your piece.
Games that involve no skill are not good games.
Yesterday, after months of not playing, we brought out the game again and took another crack at it. Because he wanted to, and he asked nicely. And I can deal with some tedium if it makes him happy.
But we changed the game a little bit. We added a house rule where you drew two cards and got to pick which one you wanted.
With this small change, Candy Land became an actual game.
Sure there was still a huge random element to it, but now there was some skill as well. You had to make decisions.
So what will it be, my little man? Green or red?
Suddenly, this game became fun for both of us. Not only was the race to the castle *much* faster. But you didn't have to fear getting a "backer." (Which is what Oot calls it when you get a card that makes you go backwards.)
Most important of all, there was suddenly some choice involved. He had a reason to pay attention. Which card do you want? Which will move you farther?
What really impressed me was when he got to this point on the board.
"Oh no," he said. "I hope I don't get a green!"
(He didn't want to get stuck in the Licorice Pit, you see. If you land on that particular green square, you lose your next turn.)
I took my turn and moved, then he took his turn and drew a double green and a double orange.
"I pick the two greens because I like green," he said. Then he picked up his piece and looked at the board. He set his piece down again. "No. Wait," he said. "I want the oranges instead."
I tell you, I practically burst with pride and joy.
With this one simple rule change, the game became engaging for both of us. He even taunted me.
Which, as far as I'm concerned, is as vital a part of game playing as learning to take turns and follow rules.
The crafty little bastard even tried to coffeeshop me when I drew the popsicle.
He's like, "You should take the double blue, dad."
Again, I glow with pride. That's my boy. If you can't win by the cards, you win the game with your mouth.
I beat him the first game. I was tempted to throw it, because I could tell he wanted to win. But that's not doing him any favors. That's another thing games teach us: how to lose. How to deal with disappointment. How to deal with the fact that sometimes, you just get shitty cards and there's nothing you can do to fix it. And that sucks. Rub some dirt on it. Happens to everyone.
Also, Oot already taught me what happens when you don't play straight with kids:
So I played that first game straight and beat him. He took it well, and because the game was shorter with the two-draw house rule, he was willing to jump right back in for a re-match. And, because it hadn't been a tedious random trawl through sugar mountain, I was happy to give it another go too.
The second game I got an early lead again, and *really* considered throwing it. But I didn't, and he won anyway. So that's a good lesson for me, too: Sometimes I should just leave well enough alone.
It was also cool to see him get better at choosing which cards to pick. He'd always pick the doubles over the singles. But originally he liked to pick blue and green because he liked those colors better.
I didn't tell him he was wrong, I just took my own turns and talked to myself, saying. "Hmmm. If I go to the blue, I go this far. If I take the orange, I go *this* far. I think I'll take the orange, because it's farther."
By the second game, he was doing the same thing. Because kids are smart. They're built to learn.
Why am I sharing this?
Well, partly because I love talking about games, and I love talking about my boy.
But I'm also telling you this story because I'm guessing a lot of you have kids, or you *will* have kids in the future. Or you'll at least play with some kids. And this was such a simple, elegant fix to a classic children's game that I couldn't help but share it.
If any of you have suggestions for good kid's games you'd like to share, I'd love to hear about them in the comments below.
Play nice everyone,
pat