As I type this, the Pairs Kickstarter stands at about $250K which means all 12 decks have been unlocked, and there's been a lot of cool extras added.
Also, the kickstarter will be ending in about 33 hours. And after the kickstarter ends, there will be no adjusting your bid. (More details about this below, when I talk about the cool new stuff that's been added.)
First, I want to show off some art. Like the Princess and Mr. Whiffle deck.
These characters should be familiar to those of you who have read The Adventures of the Princess and Mr. Whiffle. As you can see above, the cards range from the noble Sir Whiffle down to the contemptible Black Duke of Banebridge.
We've got the core deck for the Four Corners, too:
The order of these cards goes from high to low social ranking. The Amyr are pretty high up there. The troupers? They're the 10, as we all know there are none lower than the filthy, thieving Ruh.
The Modegan deck has some of that social hierarchy too. But it's not as simple as that, as Modeg is not a simple place:
This card is called The Hollow Gods. You should probably click it to see an embiggened version of the image. For reasons.
We've got the Faen deck too. You've seen shirtless bast in a previous blog. Here's an early sketch of the White Riders….
You may have heard of them:
"Rode they horses white as snow.
Silver blade and white horn bow.
Wore they fresh and supple boughs,
Red and green upon their brows."
There non-Rothfuss decks too, each awesome in their own right. There are Professors and Pirates:
Barmaids and Baby Cthulhu.
Goblins and Fruit (Pairs = Pears. Get it?)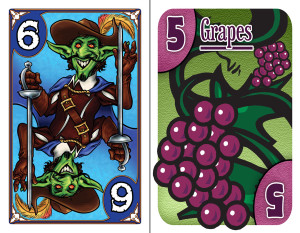 And the deck I've rooting for ever since it was set at our 200K stretch goal: the muses from one of my favorite comics of all time: Girl Genius. (I'm a super geeky fan of Phil and Kaja Foglio's work.)
In addition to the decks themselves, we've unlocked a lot of stretch goals too.
I'm not going to go into all of them. You can go browse the Kickstarter itself for that. I'm just going to hit some of the big ones:
Three sevens – More Calamities, Mendicants, and Mortal Guests:
Early on in the kickstarter, people asked if the seven card in the main deck would be the Chandrian. It's a sensible question. Chaen does mean seven after all….
That said, the answer is a resounding "no." These are decks of cards *from* the four corners. A deck of cards like that simply wouldn't exist. If it ever did exist, it would have been burnt down to the waterline long, long ago.
But this suggestion gave me an idea. So I had many secret talks with Shane and James. The end result is the Calamities.
Each of the sevens has a different picture revealing a different calamity. And James worked out a few simple (though optional) rules that makes drawing a seven worse that drawing a ten. (In Pairs, high-numbered cards are bad.)
Fast forward to about a week ago, when Hank Green and Veronica Belmont agreed to lend their likenesses to a couple cards in the Faen Deck:
(Early sketches of Hank's Alabaster Buttocks and Veronica's wanton cavorting with faerie boys.)
And I started to think, wouldn't it be cool to have more Mortal Guests?
Like maybe some character from the books? Like maybe Kvothe? and Elodin? And Auri?
So we're doing that. Nate has agreed to do five more pieces of art. There will be a few surprise guests too….
Lastly, we're adding something similar to the Modegan Deck as well. The seven in that deck is Mendicants, and now each card will show a different type of traveler coming into town. There will be Tinkers, trade caravans, wandering Amari, and, of course, the dreaded Edema Ruh.
As you can see right on the kickstarter page, if you order at the 42 dollar level (or higher) you get freebies in addition to any four decks of your choice. (The limited edition Pairs coin and sticker.)
But there are a few other cool free add-ons that aren't listed so clearly on the front page, because they were unlocked later.
For example, since we've hit 250K, everyone who comes in at the $50 level or higher gets a rule book that…
…will be a collection of all the Pairs variants, like Calamities and Pieces of Eight, and alternate games, like Blackstone and Hawthorn. It will also contain some Pairs history (both real and fictional) and artwork from the game.
One of the other unseen goals is for the people who come in at the $80 level and above. It's a limited-edition bookplate, drawn by Shane and signed by me.
Plus you get the decks themselves, and since your pledge includes shipping, you're actually getting them cheaper than they're going to be selling for in the stores.
If you're like me, and moderately addicted to kickstarter, you're probably used to being able to go in during the final confirmation process and add a few things to your pledge.
You won't be able to do that with this kickstarter.
That's because James isn't doing add-ons. So we're not using a third-party service like Backerkit or Pledge Manager.
The good thing about this is that it *really* streamlines the ordering and shipping process. That means we'll be able to get you your order more quickly and cleanly than most kickstarters.
The downside is that if you're used to waiting until after the kickstarter closes and adding a few extra items at the end, you're going to end up being a sad panda.
*     *     *
That's all I've got, folks. Thanks for being awesome and supporting this project. And by extension, supporting me and Worldbuilders. (I'm giving the charity a piece of my royalty money.)
And I'd like to say thanks on behalf of James and Shane and Nate, too. I love the games and art these guys create, and I love that y'all are helping them make a living doing it.
One last time: The Link to the Kickstarter.
pat