This is a Worldbuilders blog.
When I first started worldbuilders six years ago, I did the whole thing out of my living room. It was just an idea I was trying out on my blog, so the only prizes I had to give away were my own books, and I had grand dreams of maybe, just maybe raising as much as $5000 for Heifer International.
Now Worldbuilders occupies a whole building and has several full time staff. Over the last five years we've raised more than $2,000,000 dollars for Heifer International. And it looks like in our first five days of our 2013 fundraiser, we have a chance of raising more than we did in our entire first year….
Most importantly, it's a team effort now. These days, authors from all over the world send us signed books. Publishers, fans, and businesses do the same thing. We have a veritable treasure trove of cool swag to give away.
But even so, every year I like to throw in a blog full of my own books, just for old time's sake:
Five pairs of NOTW and WMF. Signed by Patrick Rothfuss.
If you already have copies, you can give them away as gifts or use their delightfully absorbent paper to clean up spills in the kitchen.
Pro tip: Two hardcover copies of NotW are perfect for raising your computer monitor up to the correct ergonomic height: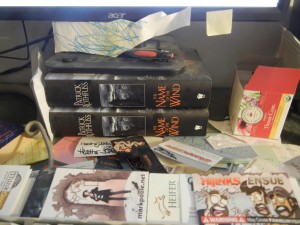 Merciful Buddha, can you even tell that's a desk? Or a monitor? Believe it or not, that's where the magic happens. (It's also where the e-mail happens, which is somewhat less magical.)
Just take my word for it. They're the perfect size to raise your computer monitor high enough so you don't get a crick in your neck.
I'll write something nice in these books. Like some of my favorite quotes. Or a thank you for supporting worldbuilders. Or maybe a secret non-spoilery quote from a future unnamed book….
Nostalga and taunting aside, I'm also going to include some books that are simply hard to find anywhere else.
Like these:
One First Edition/First Printing copy of The Name of the Wind. Signed according to your desire.
Behold the glory of the original NotW cover. Affectionately nicknamed "The Fabio."
I have just a handful of these left, carefully squirreled away. We used to keep them stocked in the store, but they kept selling out even when we put them up for $800 dollars. This one is going into the lottery where anyone can win it so long as they donate at least $10 on our Heifer Team page.
If you win it, I'll sign and personalize it however you like. You can also chose the green man cover if you prefer.
We're also going to put one up for auction:
Auction One First Edition/First Printing The Name of the Wind. Signed according to your desire.
As above. But this one is getting auctioned off. I'll sign it however you like. And you can pick whichever cover you like.
Auction

: One signed British ARC of The Name of the Wind. Signed according to your desire.

Now this is a *real* rarity.
ARCs are pretty rare, always rarer than the actual first printings of a book. This British ARC is much more rare than the black-bound US galley, plus it's fairly pretty to boot. I've only ever seen THREE of these in person.
There's only the one, so if you want it, you should get in on the bidding over here.
This is the first anthology that ever published a short story of mine, which I mentioned in the blog I wrote when it came out.
There were only 5000 of these books printed, so they're in pretty short supply. This version is particularly cool as it's been signed by a few more of the authors and the awesome cover artist.
We have a few copies of this in The Tinker's Packs, too, if you're interested. But those are only signed by me.
One rare copy of Your Annotated, Illustrated College Survival Guide. Signed by Patrick Rothfuss. Doodled by Brett Hiorns.

This book is so out-of-print it isn't even funny. There were only 500 of them printed back in 2005, long before my novels were published.
This is a collection of humor columns that I wrote for the campus paper back when I was a college student. It's signed by me, and signed and doodled by the artist, Brett, who happens to also work here at Worldbuilders now. He likes to remind me of how many late nights he spent at the paper office, waiting for my article so he could doodle something quickly, and how sometimes, this job isn't all that different.
We're putting one in the lottery where anyone can win it, and second one up in an auction, for those of you who really *really* need it.
5 pairs of The Adventures of the Princess and Mr. Whiffle: The Thing Beneath the Bed and The Dark of Deep Below. Signed by Patrick Rothfuss.

Sometimes, it seems like the Princess  books are one of the best kept secrets that I'm not trying to keep secret. Millions of people have read my novels, but the a lot of folks have never even heard of the Princess book.

I'd like to fix that, so I've put 5 sets of the first and second Princess book into the lottery, in the hopes of making someone's day, if not exactly *brighter* then maybe a little more interesting.
3 limited edition copies of The Adventures of the Princess and Mr. Whiffle: The Dark of Deep Below. Signed by Patrick Rothfuss and Nate Taylor

The limited editions of The Dark of Deep Below come with a beautiful, color cover, leather binding, and an awesome signature page, signed by both me and Nate Taylor, who did the illustrations.  Beyond that, they also have cool extras in the back, showing some of my notes to Nate, some of his original sketches, and the original script of the book that I wrote.
You can still buy some over at Subterranean, but every $10 you donate to the Team Heifer page will get you a chance to win one of the 3 I've thrown into the lottery, as well.
Auction

: A rare beta copy of The Dark of Deep Below.
Everything I write has beta readers, and every beta reader copy looks about the same.  I print it, get it spiral bound, and hand it out, along with a red pen.
These are the books I give to people to get feedback before we finalize the story. This particular beta shows the The Dark of Deep Below in its unfinished state, some of the pictures are different, and entire pages are changed in the final version.
While it's not as nice as the limited edition from Subterranean Press, it's a lot rarer. I only printed about 15 of these, and you can bid on this one over here.
* * *
To be eligible to win one of the lottery prizes, all you have to do is donate $10 or more to the Team Heifer Page. Feel free to swing by the Lottery Library to see all the prizes currently included.
There are also some great game and gaming auctions going that will be ending on Sunday night that you can see on our eBay page.
Stay tuned, folks, you've only seen the tip of the iceberg so far….