Back when I started doing Worldbuilders, the only items in our lottery came from me.
That changed pretty fast, of course. Authors started to jump in with offers of help almost immediately. That's what made me think I could turn it into something more than just me goofing off on my blog.
Now, six years later, Worldbuilders has grown to be bigger than just me, but I still like to do my part.
Most of the items I'm donating are going into the lottery, where anyone can win them if they donate at least ten bucks. A few of the rarer things are going up as auctions, too.
And some items are available in The Tinker's Packs, so you can go grab them right away if they make your palms all sweaty, or if you're looking to do some early Christmas shopping. Then, tonight you can sleep easier knowing that you've made the world a better place, because 100% of the proceeds go to Worldbuilders.
Here's the breakdown:
First Edition copies of The Name of the Wind. Signed by me. 
Back in the day, I remember selling one of these to a guy online for 60 bucks. I felt *really* guilty about it, like I was committing some sort of fraud.
Two years ago, we were selling them in the store for $700 each, but we had to stop because we ran out.
These days I have handful of them squirreled away. I hope they might help put my kids through school. But the truth is, it's looking like they'll all be gone before Oot and Cutie get to college. Sorry boys.
Still, for Worldbuilders, I'm willing to give up a pair of them. One is going into the lottery where anyone who donates can win it, other copy is going up on ebay. I'll sign it however the winner desires….
Auction

: An ARC of The Wise Man's Fear. Signed by me.
This, my friends, is a true rarity.
When we were getting ready to publish The Wise Man's Fear, we didn't want it leaking out into the internet before publication. But we still wanted to be able to show it to a select group of people. Reviewers and such.
So we printed a very, very few Advance Reader Copies. 227 of them, in fact. They were numbered before we gave them out, so if one showed up on e-bay before the book went on sale, we knew who we should sue into the ground.
My editor has copy #1. I have copy #2.
This, as you can see, is copy #4.
A couple years ago someone sent me a link to an e-bay auction of one of these. It sold for more than 2500 dollars and it wasn't even signed. I just went looking around online to see if I could find any for sale to see what they were going for, and I couldn't find a single one. That means this is the only copy of this book currently for sale anywhere.
So… Yeah. This is a rarity. But I'm putting it into the fundraiser with the hope that it will bring in some serious money and make a bunch of people's lives better.
If you win the auction, I will sign it however you like. Head over here to bid.
Your College Survival Guide. Signed by me, and signed and doodled by Brett.

Ah the terrible secrets of my misspent youth.
This is a collection of humor columns I wrote for the college paper back when I was a student. This edition is annotated, and illustrated by my longtime friend Brett Hiorns, who now works with us at Worldbuilders.
This book was put together by a small press in 2005. Back before anyone cared who Patrick Rothfuss was. There were only 500 printed, so they're fairly hard to find these days. I've put two of my remaining copies into the fundraiser.
One you can win by donating to Heifer on the Worldbuilders team page.
The other will go to the highest bidder on ebay.
The Adventures of the Princess and Mr. Whiffle Volumes 1 and 2. Both signed. Also includes the Princess and Mr. Whiffle Coloring Book.
After all these years, I'm still surprised when my fans haven't heard of The Adventures of the Princess and Mr. Whiffle. I'm terribly proud of them.
The Princess and Mr. Whiffle Coloring Book is only a couple months old. It went over great during our IndieGoGo Fundraiser this summer, so we're including it in all its geeky glory in this bundle in the lottery.
If you want to see more pictures from it, you can check it out on The Tinker's Packs, where it's available with both of the Princess books.
5 Sets of The Name of the Wind, The Wise Man's Fear, and The Slow Regard of Silent Things. All signed by me.
A complete set of the books, all hardcovers, all signed. If you already own copies… well…. the pages are really absorbent, great for cleaning up spills. They're also really thick, so they're perfect for propping up your computer monitor to it's proper ergonomic height.
All three of these are also available, signed, in The Tinker's Packs.
Copies of Unfettered. Signed by me.
This contains "How Old Holly Came to Be," my first published short story, set in Temerant. This book was published to help raise money for Shawn Speakman's cancer treatment, and there were only 5000 printed.
I'm putting five of these into the lottery, but we also have some available in the store.
Copies of Rogues. Including signed and numbered BAST OFF! card.
The Bast Off doodle cards were one of the most fun things I've done. Brett and I only drew 250 of them, and I'm throwing five into the lottery.
There's a few available in the store too, but be careful, supplies are very limited.
Since we're talking about things in the store, I should probably take a moment to mention…
A Few New Additions to The Tinker's Packs
Kvothe's Vintish Court Rings.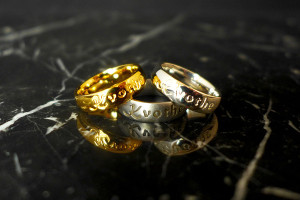 The folks over at Badali Jewelry crafted these for us, based on the court rings used in Maer's court.
The gold and silver rings are plated, (so we could keep production costs down) But the iron ring is actually made of real iron. Do you know how hard it is to get iron Jewelry made? Nobody does it, but Badali found a way.
You can buy these over in The Tinker's Packs, and 100% of the proceeds will go to Worldbuilders.
The UK edition of The Slow Regard of Silent Things.
I got a few author copies of the UK edition, and a lot of people seem to love this cover design (including most of the Worldbuilders Staff) so I've given up my precious author copies to The Tinker's Packs. If you want one, I'd grab it fast, because we don't have many.
The Worldbuilders 2015 Karen Hallion Calendar.
I would just like to take a moment to point out that *I* came up the the title for this year's calendar.
I don't doubt you've seen Karen Hallion's artwork before. (If nothing else, we have some of her signed prints in our store.) But there's one piece of art I'm guessing a lot of you haven't seen. Or at least haven't noticed….
If you click to embiggen, you'll see a couple familiar characters in the center page.
We're very proud of how this calendar turned out, and it makes a great holiday gift. You can grab one over here.
Boss Monster with Limited Edition Bast and Bastas promo cards.
Boss Monster is the game where you get to play the Boss in an old 8-bit video game. You make your dungeon difficult to get through and harvest the souls of the unsuspecting heroes you lure in with your treasure.
Turns out the folks at Brotherwise are fans of my stuff. So we worked together to create special promo cards based off my characters. Specifically, we've got Bast and Bastas cards. You can buy them by themselves, or bundled together with the game in The Tinker's Packs.
Auction:

Boss Monster with Bast, Bastas, and rare Quothe Ladykiller Card.
This was the first character likeness thing we did with one of my characters. Brotherwise printed special promo cards of "Quothe Ladykiller, The Polymath." And Worldbuilders sold them at our booth at Gencon in 2013. If you've played the game, you can tell from his stats he's a bit of an ass kicker, and apparently Amanda has been slaughtered by him more than once while playing the game.
Brotherwise printed a couple hundred cards, but we didn't know how excited people would be about it, and they all sold out at the show. We never even got to put them in the store.
But one lovely shining fan donated his card back to the fundraiser, asking us to make good use of it in the fundraiser.
So we're auctioning it off, along with a copy of the game and the Bast and Bastas cards too. If you'd like the full set, you can bid on it over here.
Auction

: A STEALTH ROTHFUSS copy of The Slow Regard of Silent Things. Signed by me.
As I've already mentioned on the blog, Over the last month, I've signed of a lot of copies of The Slow regard of Silent Things.
(Here's the shipment of books we used to fill orders for our IndieGoGo campaign.)
When I was signing 2000 books for the IndieGoGo, I stumbled onto a couple copies that had a weird printing error. They didn't have the silver foil covering my name like the other books.
(Oooh… Spooky…)
I thought they looked pretty cool, so I grabbed them for myself. Because I'm a bad person. Then I felt guilty because I'd hoarded them all….
So I'm putting one up in the auction. If you're into strange, rare misprints, here it is.
Auction

: One (1) Favor from Patrick Rothfuss.
I've auctioned off favors in the past, and it's gone over extremely well. Here are the details:
This is a 10 karat gold ring redeemable for one (1) favor from Patrick Rothfuss.
Possible uses for the favor include:
Asking Pat to insert your name/likeness into a future book or story.
Asking Pat's assistance in wooing the object of your affection, preferably from under a balcony at night.
Asking Pat to read and critique your unpublished manuscript (or your published one, if you really want.)
Asking Pat give a reading/workshop at your local library or University.
Asking Pat to give a reading/workshop at your house.
Asking Pat to give a reading/workshop in your bedroom.
Asking Pat to help you move a particularly heavy couch.
Asking Pat to follow you on twitter and post kitten pictures to you.
This favor has no expiration date. It can be traded, transferred, sold, or lost. In essence, the ring *is* the favor. You give the ring back when you cash in your favor. So if you lose it, you've kinda fucked yourself.
The nature of this favor is fairly open-ended, though some negotiation may be necessary depending on the nature of the favor. Certain ethical or legal restrictions may apply (though not as many as you might expect.) Under no circumstances will Patrick dance for you. Carnal favors must be approved by Pat's girlfriend in advance. If you won this favor in the auction, and for any reason Pat cannot fulfill his obligation to you, he will personally refund your winning bid in exchange for the ring.
If you want in on it, go over here and bid.
One Full Set of My Favorite Fantasy Books.
(So many books, Rachel had to stand on a ladder to get a picture of them all.)
A few years ago, someone asked me what they should read while they were waiting for my next book. So I posted a blog listing what the 40 best fantasy books and/or series were, in my opinion. Books that everyone should read if they wanted to consider themselves well-versed in fantasy.
My list contained 40 entries. But the clever among you will note that this is a lot more than 40 books. This is because some of the entries were for entire series. Like the Dresden Files, which I'm absolutely gooey over. (Currently 14 books.) Or Terry Pratchett's Discworld Series. (38 books.)
When we had the option, I tried to buy nice versions of the books. We've got a leather bound box set of The Lord of the Rings. A beautiful special edition of Dune. A massive Hitchhiker's Guide to the Galaxy tome. They're glorious.
All together there are over 130 books in this bundle.
We're only putting one of these into the fundraiser, and it's going into lottery. That means it's there for anyone, and every $10 you donate gives you a chance to win it.
So there you are. Go make the world a better place. You know you want to.